The RS Rating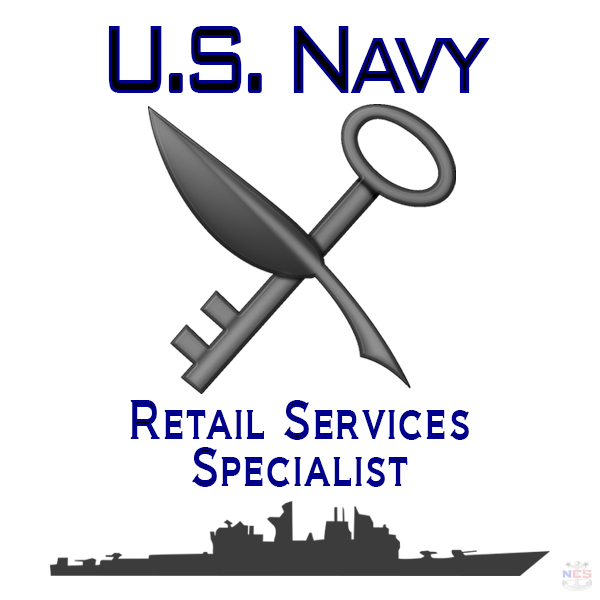 The Ship's Serviceman rating was established in 1943. On, October 1, 2019, the rating's name was changed to Retail Services Specialist (RS).
The Navy's computerized personnel system associates the rating name with an alphanumeric Navy Occupational Specialty (NOS) code. For RS, the NOS is B730.
Retail Services Specialist are responsible for managing and operating all shipboard retail and service activities. These include the ship's store, vending machines, video games, barber shops, laundry and tailor shops. They play a large role in the morale of the ship.
Retail Services Specialist's class "A" school is five weeks in duration, and the school is located in Meridian, Mississippi. The RS rating requires a 60 month (5 year) service obligation for those leaving for boot-camp in FY-2013 and beyond.
Retail Services Specialist job description (NOS B730)
Retail Services Specialist operate all shipboard retail activities. They operate and maintain vending and cash collection machines, and operate ship stores afloat. RSs receive, check, store, and inventory merchandise and materials, and they track items entering or leaving the storeroom and report damaged or spoiled goods. They use hand-held scanners to track inventories, and process orders, receipts, inventory adjustments, etc.
Retail Services Specialist use financial and inventory software applications, and they receive, monitor, and count funds received from ATM, vending machines, and store operations. They develop marketing strategies for ship stores, and they oversee sales and service operations.
Retail Services Specialist receive, process, and return shipboard laundry. They operate and tend washing and dry cleaning machines to clean or dry clean shipboard linen and uniform articles. RSs manage and operate the ship's barber shops, cut and style hair. They keep work areas clean and hair cutting implements sanitized.
Career Sea - Shore Rotation Chart
Retail Services Specialist Rating's Sea (SEA) Shore (SH) Rotation (months)
Rating
SEA1
SEA2
SEA3
SEA4
SEA/SH
RS
55
54
48
36
36/36
SH1
SH2
SH3
SH4
36
36
36
36
Sea tours and shore tours for Sailors that have completed four sea tours will be 36 months at sea followed by 36 ashore until retirement.
Qualifications, Interests, and Working Environment
Retail Services Specialists must be personable and enjoy working with people in a customer service environment. Good arithmetic and verbal skills, the ability to handle money and to perform detailed work are also requirements for this rating.
Normal color perception is not required. Members of this rating are not required to be citizens of the United States.
RSs work in diverse environments including offices, ship's stores, barber shops, and laundry plants. The work is physical, but the wide range of jobs allows people to learn valuable retailing, marketing and shop management skills. Retail Services Specialist ASVAB Test requirement.
There are approximately 2000 Sailors currently working in the Navy Retail Services Specialist rating.
Personnel in the Retail Services Specialist rating are paid allowances (BAH, BAS, etc. if eligible) and billet pay (sea pay, etc. if eligible), and military enlisted pay based on years of service and paygrade.
Credit Recommendations
The American Council on Education recommends that semester hour credits be awarded in the vocational certificate or lower-division bachelor/associate degree categories for courses taken in this rating on record keeping, small business management and inventory control.
Date Page Updated: October 19, 2019.