The QM Rating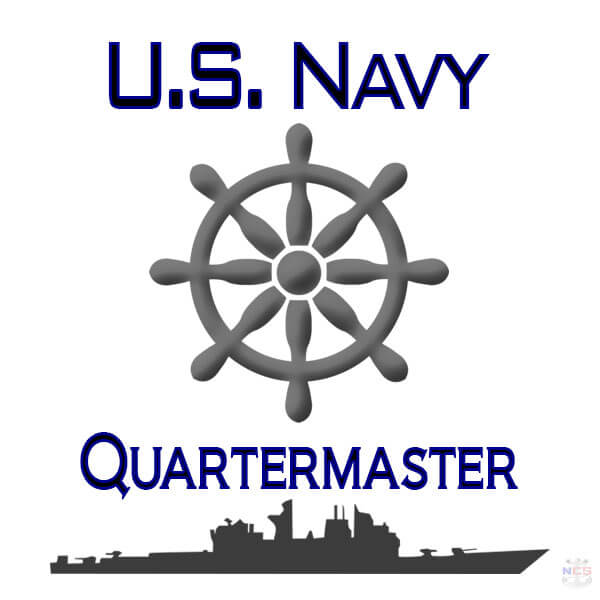 The Quartermaster rating was first established in 1798 for deployment on frigates. The QM rating is one of the original Chief Petty Officer ratings. On October 1, 2003, the Signalman (SM) rating was disestablished and folded into the Quartermaster rating.
The Navy's computerized personnel system associates the rating name with an alphanumeric Navy Occupational Specialty (NOS) code. For QM, the NOS is B450.
Quartermasters stand watch as assistants to officers of the deck and the navigator; serve as helmsman and perform ship control, navigation and bridge watch duties.
QMs procure, correct, use and stow navigational and oceanographic publications and oceanographic charts. They maintain navigational instruments and keep correct navigational time.
Quartermaster class "A" school is nine weeks long, and the school is located in Great Lakes, Illinois. The QM rating requires a 5 year minimum enlistment obligation.
Quartermaster (NOS B450)
The duties performed by QMs include operation of electronic navigation equipment. They will be able to conduct weather observations, determine compass and gyro error, compute tide and tidal current data, keep logs and records.
Quartermasters determine their ship's position by visual and electronic means, compute times of sunrise and sunset; and follow the nautical rules-of-the-road to prevent collisions at sea. They render "honors and ceremonies" in accordance with national observance and foreign customs; send and receive visual messages; and serve as petty officers in charge of tugs, self-propelled barges and other yard and district craft.
Career Sea - Shore Rotation Chart
Rating's Sea (SEA) Shore (SH) Rotation (months)
Rating
SEA1
SEA2
SEA3
SEA4
SEA/SH
QM
54
60
48
48
36/36
SH1
SH2
SH3
SH4
36
36
36
36
Sea tours and shore tours for Sailors that have completed four sea tours will be 36 months at sea followed by 36 ashore until retirement.
Sailors in the Quartermaster rating can expect to spend more than half their career on sea duty assignment. Sea tour lengths for the QM rating will not involuntarily exceed 60 months for Sailors with less than 20 years of service (YOS) and 48 months for Sailors with more than 20 YOS. Shore tour lengths between sea tours will be set to 36 months long. Manning conditions at sea may require the need to request sea tour extension or shore tour curtailments to ensure all sea duty billets are filled.
Qualifications, Interests, and Working Environment
Quartermasters must be U.S. citizens and be able to meet all security clearance requirements. A good working knowledge of arithmetic, the capability for understanding modern computing devices, the ability to speak and write well and function as a member of an integrated team, do detailed work and keep accurate records, some physical strength and good manual dexterity are important qualifications.
Normal color perception is required, and vision must correct to 20/20.
Quartermasters usually work in a clean, air-conditioned electronic equipment space or the ship's bridge/pilot house, and frequently perform their work as part of a team, but may work on individual projects. Their work is mostly mental analysis and problem solving.
USN QMs are stationed primarily aboard USN deploying ships, Full Time Support (Active Duty Reservist) QMs are stationed aboard Naval Reserve Force (NRF) ships that deploy or conduct local operations. Quartermaster ASVAB Test requirement.
Because of the skills and expertise needed by the Quartermaster as well as the level of trust and responsibility given them early on, acceptance is limited to highly motivated and qualified applicants. About 2,000 men and women work in the QM rating.
Personnel in the Quartermaster rating are paid allowances (BAH, BAS, etc. if eligible) and billet pay (sea pay, etc. if eligible), and basic enlisted military pay based on years of service and paygrade.
Credit Recommendations
American Council on Education recommends 5 semester hours credit in the lower division baccalaureate and associate degree category: 3 semester hours in Marine Navigation and 2 semester hours in marine navigation laboratory.
Date Page Modified: August 29, 2018.