The RP Rating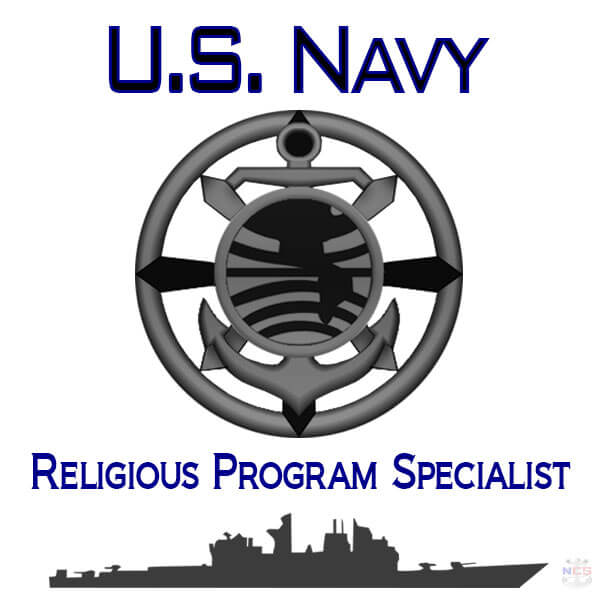 In 1942, the Navy created a number of Specialist ratings, one of which was the Specialist (W), for welfare. One of the responsibilities of the Specialist (W) was to provide security and assistance for Navy Chaplains. The Religious Program Specialist rating was established in 1979.
The Navy's computerized personnel system associates the rating name with an alphanumeric Navy Occupational Specialty (NOS) code. For RP, the NOS is B720.
Religious Program Specialists provide support to Navy Chaplains in developing programs to meet the needs of Navy, Marine Corps, and Coast Guard personnel and their families. RPs perform functions that do not require ordination and they do not do pastoral counseling.
Religious Program Specialist class "A" school is eight weeks located at Naval Air Station , Meridian, Mississippi followed by a five weeks of class "C" school, in Camp Lejune, North Carolina.
Religious Program Specialist (NOS B720)
Religious Program Specialists manage and execute the Command Religious Program (CRP) which accommodates the diverse religious ministry requirements of Navy and Marine Corps personnel and their families. They accommodate religious ministry requirements, and support the provision of religious ministry. RPs facilitate the free exercise of religion for all Sea Service personnel and support the delivery of care as part of the Religious Ministry Team (RMT). They advise leadership on morale, ethical decision-making, cross cultural awareness, and conflict resolution, and in expeditionary environments, provide force protection expertise for RMTs.
RPs operate and maintaining libraries aboard ships and isolated duty stations, and perform bookkeeping and accounting functions related to Religious Offerings Fund transactions as custodians, rigging, and unrigging for religious activities. RPs publicize the command's religious activities and train command religious program volunteers on logistics and instruction methods. They supervise the Chaplain's Office personnel, perform administrative, clerical, and secretarial duties, and stock and maintain field mount-out boxes.
Career Sea - Shore Rotation Chart
Religious Program Specialist Rating's Sea (SEA) Shore (SH) Rotation (months)
Rating
SEA1
SEA2
SEA3
SEA4
SEA/SH
RP
36
36
36
36
36/36
SH1
SH2
SH3
SH4
48
48
48
36
Sea tours and shore tours for Sailors that have completed four sea tours will be 36 months at sea followed by 36 ashore until retirement.
Inside the United States (INUS)/outside the United States (OUTUS): Sailors in INUS/OUTUS communities have sea shore flow career paths based on a rotation between INUS and OUTUS duty assignments. Assignment to sea and/or OUTUS duty (types 2, 3, 4, and 6) will be considered sea tours for sea shore rotation purposes. Assignment to INUS shore duty (type 1) will be considered shore tours for rotation purposes.
Religious Program Specialists have a limited number of sea duty billets available for assignment. Tour assignments for the RP rating will be based on INUS/OUTUS career paths as described above.
Qualifications, Interests, and Working Environment
People in this rating must possess a valid driver's license, be able to type 30 words a minute, and understand that their work schedule may require duties to be performed in the evenings and on weekends and holidays. Applicants should have no speech impediments, be able to express ideas clearly in speaking to others, do detailed work and repetitive tasks, and keep accurate records. Necessary qualities include an interest in people, writing skills, initiative, resourcefulness, and a knowledge of arithmetic.
Normal color perception is not required. United States citizenship is required for the RP rating.
Religious Program Specialists will be supportive of clergy and people of all faiths, set high standards, and be of good moral character. RPs work in a variety of environments wherever chaplains are stationed with Navy and Marine Corps personnel. While most of their work is performed indoors, it may also be performed on the deck of a ship, in the field with Marines, in a combat situation, or in a hospital.
Navy Chaplains are non-combatants, but RPs are considered combatant and will receive combat training. RPs protect the chaplain and ensure his or her safety, particularly in combat areas. RP ASVAB Test requirement.
About 760 men and women work in the Religious Program Specialist rating. Qualified and self-motivated people have a good opportunity for entry into this rating.
Personnel in the Religious Program Specialist rating are paid allowances (BAH, BAS, etc. if eligible) and billet pay (sea pay, etc. if eligible), and basic military pay based on years of service and paygrade.
Credit Recommendations
The American Council on Education recommends that semester hour credits be awarded in the vocational certificate or lower-division bachelor's/associates degree categories.
Date Page Updated: February 26, 2019.