The LS Rating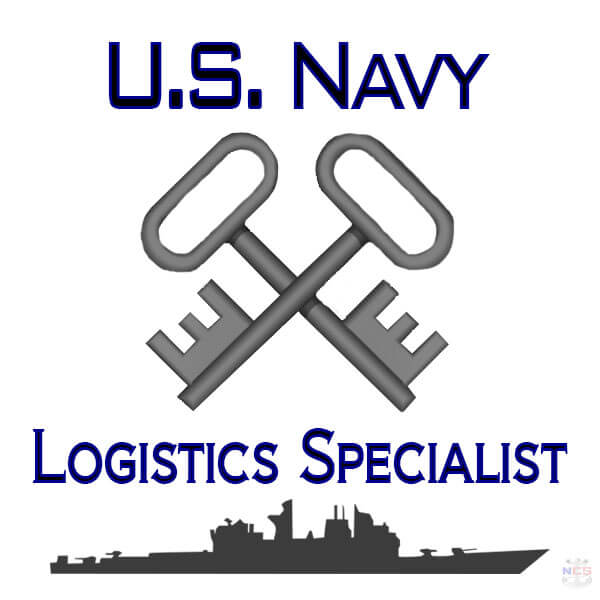 The Logistics Specialist rating was established as a result of the merger of the Storekeeper (SK), and Postal Clerk (PC) ratings in October 2009. Aviation Storekeeper (AK) had previously merged with Storekeeper (SK) in January 2003.
The Navy's computerized personnel system associates the rating name with an alphanumeric Navy Occupational Specialty (NOS) code. For LS, the NOS is B740.
Logistics Specialists manage inventories of repair parts and general supplies that support ships, squadrons, and shore-based activities. They procure, receive, store and issue material and repair components. They utilize financial accounting and database systems to perform inventory and financial management functions.
Logistics Specialists operate Navy post offices. Their work is similar to that of civilians who work for the U.S. Postal Service. PCs supervise, organize, and establish or disestablish a Navy post office. They sort and distribute all official and personal mail, manage money order and stamp inventories, and maintain financial and inventory reports.
Logistics Specialist class "A" school is nine weeks long, and the school is located in Meridian, Mississippi. Both the LS (Surface) and LSS (Submarine) ratings require a 60 month (5 year) service obligation.
Logistics Specialist (LS)
The duties performed by Logistics Specialists include ordering, stocking, and issuing repair parts, clothing and general supplies. They maintain financial records and accounting systems, and maintain inventory databases for material stocked in shore based warehouses and ship storerooms.
Logistics Specialists perform duties associated with hazardous material control and management, and organize and maintain databases, correspondence files, and reports. Maintain logistics and financial publications and CD-ROM libraries.
Logistics Specialists also manage and operating Navy post offices, ashore or afloat. They sort and distribute all classes of mail and parcel post, and process and dispatch mail. They perform counter operations similar to those performed in United States Postal Service offices, such as selling stamps, handling money orders, preparing claims, tracers and inquiries, and prepare and maintain postal records and reports.
Career Sea - Shore Rotation Chart
Logistics Specialist Rating's Sea (SEA) Shore (SH) Rotation (months)
Rating
SEA1
SEA2
SEA3
SEA4
SEA/SH
LS
55
48
42
48
36/36
LSS
52
36
36
36
SH1
SH2
SH3
SH4
LS
36
36
36
36
LSS
36
36
36
36
Sea tours and shore tours for Sailors that have completed four sea tours will be 36 months at sea followed by 36 ashore until retirement.
Note: LSS is the Submariner version of the LS rating.
Qualifications, Interests, and Working Environment
Logistics Specialists must be personable and enjoy working with people in a customer service environment. Good arithmetic and verbal skills are very important. Those in the LS rating that handle classified mail or volunteer for submarine duty must be U.S. Citizens and pass a security clearance investigation; otherwise, US citizenship is not required. Applicants must possess a clear record with no civilian convictions, with the exception of minor traffic offenses.
Normal color perception is not required.
LSs work in offices, post offices, shore-based warehouses, air cargo terminals at naval air stations and in storerooms aboard ships. While they work closely with other people, their tasks usually require independent decisions. The diverse working locations associated with this rating provide an excellent opportunity for learning a wide range of inventory database management, financial management, procurement, and warehouse management skills. LSs work aboard all types of ships and shore bases throughout the Navy. LS ASVAB Test requirement.
Over 8,500 men and women currently work as a Logistics Specialist (Surface), and about 450 in the LS (Submarine) rating, in the Navy. Opportunities are excellent for qualified candidates.
Personnel in the Logistics Specialist rating are paid allowances (BAH, BAS, etc. if eligible) and billet pay (sea pay, submarine pay, etc. if eligible), and enlisted basic pay based on years of military service and paygrade.
Credit Recommendations
The American Council on Education recommends that semester hour credits be awarded in the vocational certificate and lower-division bachelor's/associates degree categories for courses taken in this rating on office machines and general clerical procedures.
Date Page Modified: November 16, 2017.