The MU Rating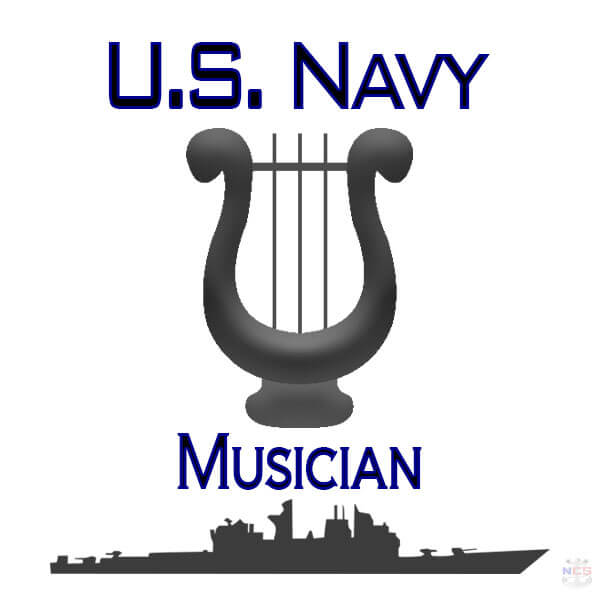 In 1794, when Congress passed "An Act to provide a naval armament", they requisitioned one Drum and one Fife player for each of the six original frigates. Those Drum and the Fife positions along with others that developed over the years would be folded into the Musician rating when it was officially established in 1838.
The Navy's computerized personnel system associates the rating name with an alphanumeric Navy Occupational Specialty (NOS) code. For MU, the NOS is B660.
The U.S. Navy Music Program has a proud tradition of setting a high standard of musical excellence. If you meet this standard and are looking for an exciting career, join the Navy team and be part of one of the TOP music programs in the nation. You will receive all the support and expert training needed to achieve professional status, earning excellent pay and college credits while performing with some of the finest musicians in the country.
The active duty Musician rating requires a 48 month (4 year) minimum enlistment contract.
Navy Musicians attend the Armed Forces School of Music, located in Little Creek, Virginia, for 21 weeks.
Musician (NOS B660)
Life as a Navy Musician is one of variety! Whether you are assigned to one of our two Premiere Bands, The United States Navy Band Washington, DC or the Naval Academy Band in Annapolis, MD, or one of our 11 fleet bands, you will have the opportunity to perform virtually every idiom from Sousa marches to MTV, from Broadway to symphonic wind ensemble, from contemporary rock to Big Band jazz, and from bluegrass to baroque.
Musicians perform on one or more designated instruments to provide ceremonial and entertainment services afloat and ashore to enhance Navy presence and coalition building initiatives, support Navy recruiting goals and objectives, inspire patriotism, elevate esprit de corps, enhance retention and pride in the naval service, enhance community awareness and public relations, and provide services that project a positive United States and Navy image both at home and abroad.
As a member of a Navy Band, your performances might include presidential inaugurations; parades down Main Street USA, or the Avenue des Champs Elysees in Paris; military ceremonies on the White House lawn or abroad carriers at sea; public shows and concerts as well as live radio and television broadcasts.
Career Sea - Shore Rotation Chart
Rating's Sea (SEA) Shore (SH) Rotation (months)
Rating
SEA1
SEA2
SEA3
SEA4
SEA/SH
MU
Career path not defined by sea-shore rotation
SH1
SH2
SH3
SH4
Career path not defined by sea-shore rotation
Inside the United States (INUS)/outside the United States (OUTUS): Sailors in INUS/OUTUS communities have sea shore flow career paths based on a rotation between INUS and OUTUS duty assignments. Assignment to sea and/or OUTUS duty (types 2, 3, 4, and 6) will be considered sea tours for sea shore rotation purposes. Assignment to INUS shore duty (type 1) will be considered shore tours for rotation purposes.
Musicians will be assigned to one of the various navy bands throughout their career. Assignment by fit (skill/NEC) predominates and minimum tour lengths apply. Musicians can expect at least one tour assignment to an OUTUS band during their career and are required to maintain world-wide assignability. Though classified type 1 shore duty, all INUS bands are subject to frequent and extensive TAD within their AOR, and are considered deployable units. OUTUS bands are subject to shipboard and ground-based deployment within their AOR and require operational duty screening.
Qualifications, Interests, and Working Environment
Musician applicant's musical qualifications are determined by an on-site performance audition. Applicants must demonstrate competent performance ability on a major instrument through a live audition.
Primary Instruments
Primary Instrument
Flute
Oboe
Clarinet
Bassoon
Saxophone
Trumpet
French Horn
Euphonium
Trombone
Tuba
Guitar
Percussion
Piano - Keyboard
Electric Bass
Voice (Vocalist - Entertainer)
All woodwind and brass instrumentalist applicants will perform a minimum of one solo of their choosing. The solo should be considered standard repertoire for that instrument and should highlight the candidate's technical and lyrical proficiency. If candidates have a jazz background, they are encouraged to perform a jazz etude, transcription, or a standard with a backing track CD as part of their prepared material. Perform major and all forms of minor scales, with arpeggios throughout the range of the instrument, SIGHT-READ "first chair" parts of intermediate to difficult concert and stage band literature at a reasonable level. Music will contain various articulations, tempi, key signatures, etc.
For Keyboard, Guitar, and Electric Bass Instrumentalists, the requirements for rhythm section players revolve around competency and versatility. Perform a minimum of one solo of their choosing. The solo(s) should highlight the candidate's technical and lyrical proficiency. Strong consideration is given to candidates with a jazz or commercial music background and who demonstrate these abilities during the prepared music portion using backing tracks. Perform major and all forms of minor scales with arpeggios throughout the range of the instrument. Applicants must demonstrate working knowledge of chords and common chord symbols; ability to perform standard and currently popular, contemporary styles (rock, latins, swing, funk, etc.). Candidates must demonstrate correct performance and accompaniment in the various styles and ability to SIGHT-READ single line and chord changes from standard sheet music of contemporary styles. Sight reading will include lead sheets, chord progressions, single note melodies, etc. Keyboard and guitar applicants should expect to solo. Keyboard applicants must also be able to SIGHT-READ standard grand staff piano music.
For Percussionists, the audition consists of 3 parts: Snare, mallets and drum set. Within each of these sections is prepared material and sight-reading.
Snare: 26 rudiments from memory, and rolls in both open and closed positions. Prepared solo for both concert and rudimental snare. SIGHT-READ intermediate to advanced music from marches, concert band, and method book excerpts.
Mallets: Perform prepared solo, 2 octaves major and all forms of minor scales and arpeggios. SIGHT-READ intermediate music.
Drum set: Demonstrate typical patterns in a variety of standard and currently popular contemporary styles to include rock, funk, swing, Latins, etc. Sight read off a lead sheet and demonstrate ability to set up kicks.
Vocalist/Entertainer: Vocalists should be comfortable jumping from one style to another, moving on stage, and entertaining the audience. Applicants must demonstrate capability to sing appropriately within various styles and must be comfortable as a front-line entertainer. Candidates will perform the National Anthem in B Flat and six prepared songs of different styles chosen from the song list posted on the Navy Band website. An accompaniment CD for their selected songs will be sent to the applicant two weeks prior to the audition. Perform major and all forms of minor scales with arpeggios two octaves. SIGHT-READ single melodic lines from standard sheet music. Applicants will be judged on vocal and mic technique, and stage presence. Although not required, an ability to perform basic accompaniment styles on keyboard or guitar is encouraged as part of the audition.
NAVCRUITDISTs are responsible for setting-up and funding applicant travel to the audition.
Navy musicians must set the standard for musical excellence and be able to perform at the most professional degree in all musical styles. Along with musical talent, MUs must be constantly aware of the need to maintain the highest degree of professional competence and exemplary behavior. MU requires a minimum of a 31QT on the ASVAB and does not have an individual line score requirement. Normal color perception is not required. Members of this rating are not required to be citizens of the United States.
About 600 men and women work in the Navy's Musician rating.
Personnel in the Musician rating are paid allowances (BAH, BAS, etc. if eligible) and enlisted basic pay based on years of military service and paygrade.
Credit Recommendations
The American Council on Education recommends that semester hours be awarded in the lower-division bachelor's/associates degree category for courses taken in the MU rating on music theory, elementary conducting, marching and concert band, and social occasions.
Date Page Modified: August 28, 2018.