The CS Rating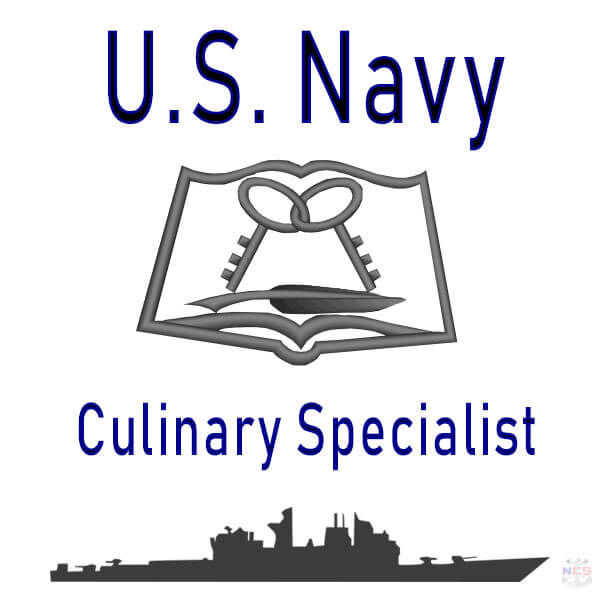 The Navy Cook rating was one of the original ratings established in 1794 with the passage of "An act to provide a Naval Armament". The name Cook was changed to Ship's Cook in 1838. It wasn't until 1948 that the culmination of the various rates Commissary Steward, Ship's Cook, Ship's Cook (B) (Butchers), and Baker consolidated into the Commissaryman rating. In 1975, the name was changed to Mess Management Specialist, and finally to its current name, in 2004, Culinary Specialist.
The Navy's computerized personnel system associates the rating name with an alphanumeric Navy Occupational Specialty (NOS) code. For CS, the NOS is B650.
Culinary Specialists operate and manage dining facilities and living quarters established to subsist and accommodate Navy personnel. It is commonly accepted that the "mess decks," or dining areas aboard ship are the "heart of the ship." The role they play for the morale of the ship is very important.
CSs are needed on every ship and shore base in the Navy. Navy Culinary Specialists provide food service catering for admirals and senior government executives and operate the White House Mess for the President of the United States. Both the CS (Surface) and CSS (Submarine) ratings require a 60 month (5 year) service obligation.
Culinary Specialist "A" school is nine weeks in duration and is located at the Joint Culinary Center of Excellence at Fort Lee, Virginia. Following "A" school, members of the CS (Submarine) rating will attend the four week Basic Enlisted Submarine School in Groton, Connecticut.
Culinary Specialist job description (NOS B650)
Culinary Specialists operate and manage Navy messes, afloat and ashore, established to subsist Naval personnel. They estimate quantities and types of food items required, and assist Supply Officers in ordering and stowage of subsistence items and procurement of equipment and mess gear. CSs check delivery for quantity and assist medical personnel in inspection for quality. They prepare menus, and plan, prepare, and serve meals.
Culinary Specialists maintain food service spaces and associated equipment in a clean and sanitary condition, including storerooms and refrigerated spaces. They operate and manage shipboard living quarters and shore based hotel-type quarters.
Career Sea - Shore Rotation Chart
Rating's Sea (SEA) Shore (SH) Rotation (months)
Rating
SEA1
SEA2
SEA3
SEA4
SEA/SH
CS
55
54
48
36
36/36
CSS
51
54
48
36
SH1
SH2
SH3
SH4
CS
36
36
36
36
CSS
36
36
36
36
Sea tours and shore tours for Sailors that have completed four sea tours will be 36 months at sea followed by 36 ashore until retirement.
CSS = Culinary Specialist Submarines.
Qualifications, Interests, and Working Environment
Culinary Specialists must be good team workers and enjoy working with people. The ability to do detailed work, follow instructions, and keep accurate records is important. Good arithmetic and verbal skills, creative ability and an interest in nutrition and culinary arts are also helpful.
Normal color perception is not required. Members of this rate are not required to be citizens of the United States.
Culinary Specialists, work in kitchens, dining areas, living quarters and food service storerooms aboard ships and shore bases. The work is both physically and mentally challenging and involves working as part of a team. Culinary Specialist's ASVAB Test requirement.
Approximately 7,500 men and women work in the CS rating. Placement and advancement opportunities are excellent for qualified applicants.
Personnel in the Culinary Specialist rating are paid allowances (BAH, BAS, etc. if eligible) and billet pay (sea pay, flight pay, submarine pay, etc. if eligible), and military basic pay based on years of service and paygrade.
Credit Recommendations
The American Council on Education recommends that semester hour credits be awarded in the vocational certificate and lower-division bachelor's/associates degree categories for courses taken in this rating on food preparation, kitchen operations, sanitation and hotel management.