The MA Rating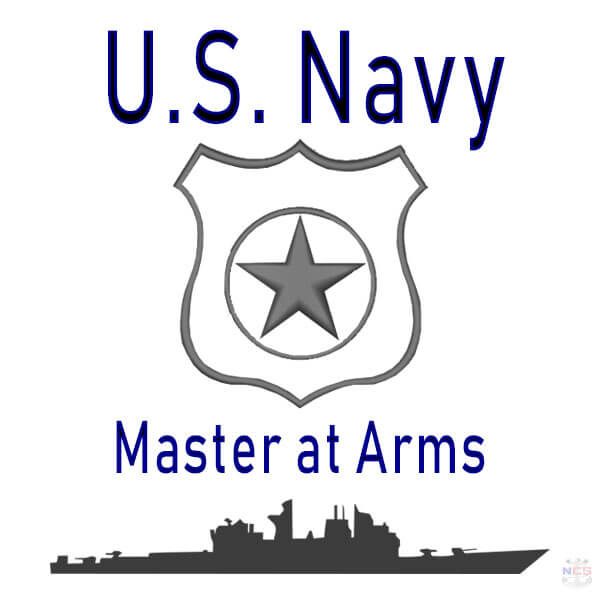 The Master at Arms' rating was one of the original United States Navy ratings when it was first established in 1794. The rating was then disestablished in 1921 and the responsibilities of the rating were delved out as collateral duties to other ratings. The Master-at-Arms rating is one of the original eight Chief Petty Officer ratings.
Established in 1942, the Specialists (S) Shore Patrol and Security worked shore patrol teams and ensured basic ship and shore station security. Its name was changed in 1948 to Shore Patrolman, and it took on some of the official functions of the current Master-at Arms rating, only to be re-disestablished in 1953.
Finally reestablished on August 1, 1973, the MA rating would only draw its members from Sailors cross-rating from other ratings at the Second Class Petty Officer level and above. That is until 2003, when Navy Recruiting Command was assigned a new contract mission for entry level applicants.
The Navy's computerized personnel system associates the rating name with an alphanumeric Navy Occupational Specialty (NOS) code. For MA, the NOS is B640.
The Master at Arms' rating is the Navy's military police force. Master-at-Arms make sure the Navy's regulations are enforced. They provide the United States Navy with security specialists who perform force protection, anti-terrorism, physical security, and law enforcement duties on land and at sea. All training and experience can directly transfer to homeland security or other government and civilian law enforcement agencies.
Master at Arms class "A" school is approximately nine weeks in duration, and the school is located on Lackland Air Force Base in San Antonio, Texas.
Master-at-Arms (NOS B640)
Master-at-Arms provide waterborne and land security, aircraft and flight line security, strategic weapons and cargo security, maritime security and platform protection. They conduct customs operations, corrections operations, detainee operations, and protective service operations.
MAs perform force protection, physical security and law enforcement, and organize and train personnel in force protection, physical security, law enforcement, and weapons proficiency. They develop plans for physical security and force protection enhancement of Navy bases, installations, property, and personnel, and assist commands in conducting terrorist threat analysis and implementing defensive measures.
If you have experience as a law enforcement officer, or as a corrections, probation, or parole officer, you may be able to translate that experience higher pay at enlistment via the Navy Direct Procurement Enlistment Program (DPEP). Ask your recruiter for details.
Career Sea - Shore Rotation Chart
Rating's Sea (SEA) Shore (SH) Rotation (months)
Rating
SEA1
SEA2
SEA3
SEA4
SEA/SH
MA
36
36
36
36
36/36
SH1
SH2
SH3
SH4
36
36
36
36
Sea tours and shore tours for Sailors that have completed four sea tours will be 36 months at sea followed by 36 ashore until retirement.
Inside the United States (INUS)/outside the United States (OUTUS): Sailors in INUS/OUTUS communities have sea shore flow career paths based on a rotation between INUS and OUTUS duty assignments. Assignment to sea and/or OUTUS duty (types 2, 3, 4, and 6) will be considered sea tours for sea shore rotation purposes. Assignment to INUS shore duty (type 1) will be considered shore tours for rotation purposes.
Master-at-Arms that successfully complete a full tour at a strategic weapons facility (SWFLANT or SWFPAC) will be granted OUTUS duty credit for rotation purposes only and will be eligible for INUS/shore duty assignment upon completion. Master-at-Arms will be required to complete a dependent restricted sea tour assignment type 3 or type 4 (Bahrain only) during their first or second sea tour rotation. Additionally, senior Master-at-Arms may be required to complete a second dependent restricted sea tour assignment during their third sea tour rotation. Hawaii is considered INUS shore duty (type 1).
Qualifications, Interests, and Working Environment
Those personnel who want to qualify for the MA rating should be people oriented, dedicated, resourceful, and versatile. US citizenship is required. Due to the unique functions of the MA, strict adherence to eligibility criteria must be maintained. No drug (except marijuana usage that was over 36 months ago), alcohol, or criminal history waivers are allowed.
Conduct waivers at the NRD CO level are possible for non-alcohol or drug offenses as long as a minimum of 36 months has passed since the offense.
Must possess valid driver's license.
Applicants should possess strong writing and speaking skills, a good memory, and the ability to conduct detailed work while maintaining accurate records.
Family members must be citizens of the U.S. or country on low-level threat list. No history or current use of prescribed medications for mental impairment or disorder, emotional instability, or other physical conditions that impairs the performance of law enforcement and security duties.
Normal color perception and hearing are required, and vision must be correctable to 20/20.
Prospective MA's should possess physical strength, manual dexterity, and competence with tools, equipment and machines. MA's may expect to be assigned to duty at shore stations in the United States and overseas; aboard ships as either ship's company or embarked security team; or as part of a maritime expeditionary security squadron.
The work environment varies as widely as do the various individual assignment opportunities. MAs are currently serving in expeditionary security locations worldwide and providing landward and seaward security in support of Joint Service operations. MA ASVAB Test requirement.
Over 10,500 men and women currently work in the Master-at-Arms rating. Opportunities are excellent for qualified candidates.
Personnel in the Master-at-Arms rating are paid allowances (BAH, BAS, etc. if eligible), billet pay (sea pay, etc. if eligible), and basic military pay based on years of service and paygrade.
Credit Recommendations
The American Council on Education recommends that semester hour credits be awarded in the vocational certificate and lower-division bachelor/associate degree categories for courses taken in this rating on criminal investigation, criminal law, report writing, human relations/applied psychology, corrections procedures and instructor training techniques.
Date Page Modified: July 2, 2021.