The BM Rating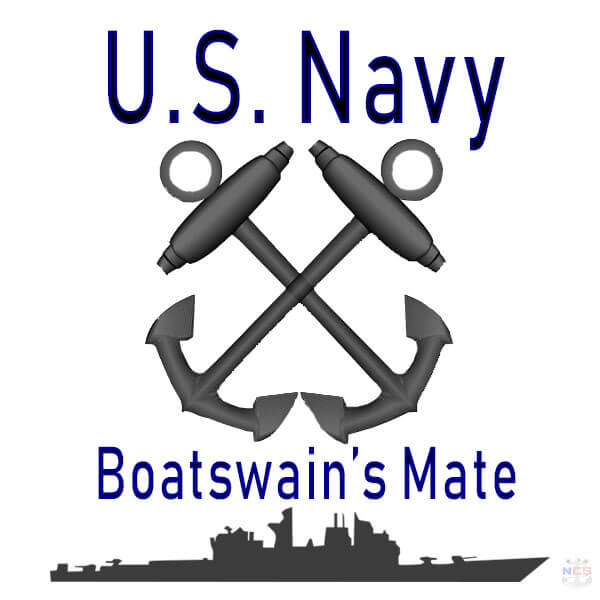 The United States Navy Boatswain's Mate rating was officially established in 1794. Boatswain's Mate and Gunner's Mate are the oldest, continually serving ratings in the United States Navy, and each has a rich history and celebrate honored traditions.
The Navy's computerized personnel system associates the rating name with an alphanumeric Navy Occupational Specialty (NOS) code. For BM, the NOS is B400.
BM's are the leaders and backbone of every ship's crew. A Boatswain's Mate maintains the exterior surfaces of ships, deck handling machinery and equipment, handle cargo and operate small boats during a number of evolutions including Anti-Terrorism Operations and Maritime Interdiction boardings of suspect ships.
The BM rating requires a 60 month (5 year) service obligation. Boatswain's Mate class "A" school is six weeks long, and it is located in Great Lakes, Illinois.
Boatswain's Mate job description (NOS B400)
Boatswain's Mates train, direct, and supervise personnel in ship's maintenance duties in all activities relating to marlinespikes, decks, boat seamanship, painting, upkeep of ship's external-structure, rigging, deck equipment, and life boats.
BMs take charge of working parties, and act as petty officer-in-charge of picket boats, self-propelled barges, tugs, and other yard and district crafts. They serve in, or take charge of gun crews and damage control parties. Boatswain's Mates operate and maintain equipment used in loading and unloading cargo, ammunition, fuel, and general stores.
Higher ranking Boatswain's Mates provide training and supervise others in caring for and handling deck equipment and small boats.
Career Sea - Shore Rotation Chart
Rating's Sea (SEA) Shore (SH) Rotation (months)
Rating
SEA1
SEA2
SEA3
SEA4
SEA/SH
BM
56
60
48
48
36/36
SH1
SH2
SH3
SH4
36
36
36
36
Sea tours and shore tours for Sailors that have completed four sea tours will be 36 months at sea followed by 36 ashore until retirement.
Sailors in the Boatswain's Mate rating can expect to spend more than half their career on sea duty assignment. Sea tour lengths for the BM rating will not involuntarily exceed 60 months for Sailors with less than 20 years of service (YOS) and 48 months for Sailors with more than 20 YOS. Shore tour lengths between sea tours will be set to 36 months long. Manning conditions at sea may require the need to request sea tour extension or shore tour curtailments to ensure all sea duty billets are filled.
Qualifications, Interests, and Working Environment
BM's must be able to get along well with others and to speak clearly and distinctly. Other qualities include resourcefulness, a good memory, curiosity, physical strength, manual dexterity, the ability to work as a team member and to perform repetitive tasks.
Normal color perception is required. Members of this rate are not required to be citizens of the United States.
Boatswain's mates perform most of their duties outdoors, working closely with others, and the majority of work is of a physical nature. BM's ASVAB Test requirement.
About 4,800 men and women currently work in the Boatswain's Mate rating. Opportunities are excellent for qualified candidates.
Personnel in the Boatswain's Mate rating are paid allowances (BAH, BAS, etc. if eligible) and billet pay (sea pay, etc. if eligible), and enlisted basic pay based on years of military service and paygrade.
Credit Recommendations
The American Council on Education recommends that semester hour credits be awarded in the vocational certificate and lower-division Bachelor's degree categories for courses take in this rating on seamanship.