The AS Rating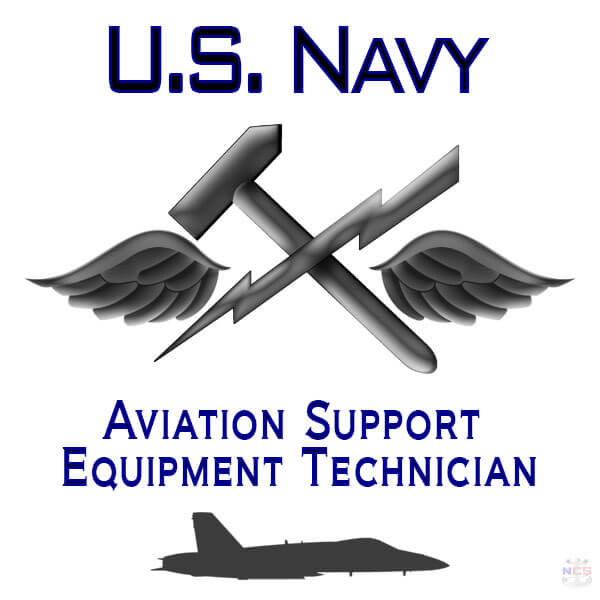 The Aviation Support Equipment Technician rating was established in October 1965.
The Navy's computerized personnel system associates the rating name with an alphanumeric Navy Occupational Specialty (NOS) code. For AS, the NOS is A430.
Aviation Support Equipment Technicians operate, maintain, repair and test automotive electrical systems in ground equipment, gasoline and diesel systems, and associated automotive, hydraulic and pneumatic systems. They also maintain gas turbine compressor units, ground air-conditioning units, perform metal fabrication, repair and painting of tow tractors and other aircraft servicing units.
Aviation Support Equipment Technician class "A" school is approximately 20 weeks long, and it is located in Pensacola, Florida.
Aviation Support Equipment Technician job description (NOS A430)
Aviation Support Equipment Technicians perform preventive and corrective maintenance on aviation support equipment, aviation armament handling equipment, aviation mobile firefighting units, and associated components and systems.
They service, inspect, test, troubleshoot, and repair gasoline and diesel engine systems, transmission systems, hydraulic, hydrostatic, and pneumatic systems, steering and suspension systems, cryogenic systems, electrical systems, gas turbine compressor units, electrical and hydraulic power generating equipment, and air-conditioning and refrigeration systems (excluding avionics support equipment). They manufacture and install belts and hoses, do body work, minor welding, painting, and brake service and repair.
Aviation Support Equipment Technicians manage support equipment assets at different command levels, and provide training in operation of aviation support equipment, and they train and test people in vehicle operation.
Career Sea - Shore Rotation Chart
Aviation Support Equipment Technician Rating's Sea (SEA) Shore (SH) Rotation (months)
Rating
SEA1
SEA2
SEA3
SEA4
SEA/SH
AS
36
48
36
36
36/36
SH1
SH2
SH3
SH4
36
36
48
36
Sea tours and shore tours for Sailors that have completed four sea tours will be 36 months at sea followed by 36 ashore until retirement.
Qualifications, Interests, and Working Environment
Important qualifications for people interested in this rating include above average competence with tools, equipment, machines and record keeping; be physically fit and possess manual dexterity. The ability to relate well with others, work as a team member, do repetitive tasks and perform detailed work is also helpful.
Normal hearing and normal color and depth perception are required. Members of this rate are not required to be citizens of the United States.
People in the AS rating may be assigned to sea or shore duty. They may work in hangars and sheltered areas, on flight decks or on flight lines at air stations. They work closely with others, do mostly physical work and require little supervision. Wind and noise levels are high. AS ASVAB Test requirement.
Approximately 2,000 men and women now work in the Aviation Support Equipment Technician rating. For candidates with the right qualifications, entry opportunities are good.
Personnel in the Aviation Support Equipment Technician rating are paid allowances (BAH, BAS, etc. if eligible) and billet pay (sea pay, flight pay, submarine pay, etc. if eligible), and military basic pay based on years of military service and paygrade.
Credit Recommendations
The American Council on Education recommends that semester hour credits be awarded in the vocational certificate or lower-division bachelor's/associates degree categories for automobile electricity, basic electricity, diesel engines, hydraulic brakes and basic shop practices courses taken in this rating.
Date Page Updated: September 28, 2018.