The PR Rating
Aircrew Survival Equipmentman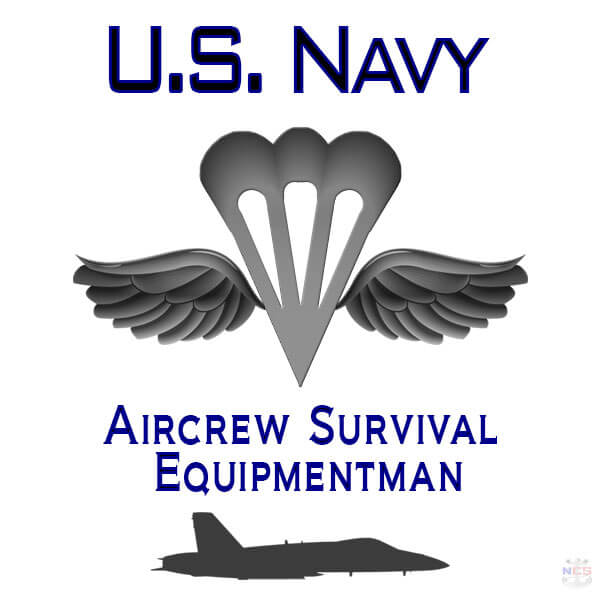 The Aircrew Survival Equipmentman (PR) was originally known as a Parachute Rigger until the rating was formally changed to its current name in 1965.
The Navy's computerized personnel system associates the rating name with an alphanumeric Navy Occupational Specialty (NOS) code. For PR, the NOS is A450.
PRs are responsible for keeping parachutes, life rafts, personal flight gear, and other aviation survival gear in proper working condition.
Parachutes are the lifesaving equipment of aircrewmen when they have to bail out. In time of disaster, the parachute may also be the only means of delivering badly needed medicines, goods, and other supplies to isolated victims.
Aircrew Survival Equipmentman class "A" school is approximately 12 weeks in duration, depending on the level of maintenance requirement of first duty station. The school is located in Pensacola, Florida.
Aircrew Survival Equipmentman Job Description (NOS A450)
Aircrew Survival Equipmentmen inspect, maintain, and repair parachutes, seat pans, survival equipment, and flight and protective clothing and equipment. They pack and rig parachutes, pack and equip life rafts.
PRs troubleshoot oxygen systems and repair and test oxygen regulators and liquid oxygen converters removed from aircraft. They fit and maintain oxygen masks, flight clothing, anti-exposure suits, and anti-G suits PRs operate and maintain carbon dioxide transfer and recharge equipment. They operate and repair sewing machines, and conduct special calendar/periodic inspections of survival equipment.
Career Sea - Shore Rotation
Aircrew Survival Equipmentman Rating's Sea (SEA) Shore (SH) Rotation (months)
Rating
SEA1
SEA2
SEA3
SEA4
SEA/SH
PR
42
36
36
42
36/36
SH1
SH2
SH3
SH4
36
36
36
36
Sea tours and shore tours for Sailors that have completed four sea tours will be 36 months at sea followed by 36 ashore until retirement.
Qualifications, Interests, and Working Environment
Personnel in the PR rating should be people-oriented, have a good memory, be resourceful, meticulous at detail work and record keeping, possess good manual dexterity and have an orientation toward tools, equipment and machines.
Normal color perception is required. Members of this rate are not required to be citizens of the United States.
They must be able to work well as part of a team. Helpful attributes are curiosity, writing and speaking skills and physical fitness. PRs must possess a complete awareness and appreciation of details and be able to follow through every step of the way. Duties in the PR rating are usually performed indoors in aircraft hangars and on board carriers. They also may work outdoors on flight decks and on Naval Air Station flight lines. PR ASVAB Test requirement.
There are approximately 1750 active duty Sailors currently working in the Navy Aircrew Survival Equipmentman rating.
Personnel in the Aircrew Survival Equipmentman rating are paid allowances (BAH, BAS, etc. if eligible) and enlisted military basic pay based on years of service and paygrade.
Credit Recommendations
The American Council on Education recommends that 2 semester hour credits be awarded in the vocational certificate category in sewing machine operation, service, and maintenance, and 2 in parachute packing and inspection; additionally, 3 semester hours in lower-division bachelor's/associates degree category in aviation safety equipment repair/maintenance. Credits may also be earned for other follow-on training ("C" schools) throughout your career.
Written by NCCM Thomas Goering USN(RET).
Date Page Updated: September 26, 2018.