The AG Rating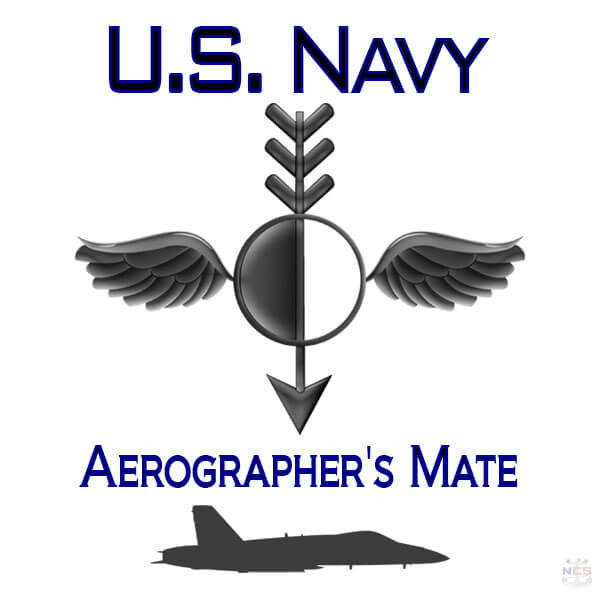 Aerographer was established as a rating in 1924, and in 1942 the rating officially changed to Aerographer's Mate.
The Navy's computerized personnel system associates the rating name with an alphanumeric Navy Occupational Specialty (NOS) code. For AG, the NOS is A410.
An Aerographer's Mate is the Navy's own weather forecaster. Aerographer's Mates are trained in the science of meteorology and physical oceanography; the Navy's meteorological and oceanographic experts. AGs learn to use instruments that monitor weather characteristics such as air pressure, temperature, humidity, wind speed and direction, and then distribute this data to aircraft, ships and shore activities.
Aerographer's Mate "A" school is located on Keesler Air Force Base, Mississippi. The school is 19 weeks in length.
Aerographer's Mate Job Description (NOS A410)
Aerographer's Mates collect, measure, and analyze the elements of the physical environment (land, sea, air, space) and land/sea interface. They synthesize a vast array of oceanographic and meteorological data and in situ observations and measurements to produce forecasts and warnings in support of safety of flight and navigation, as well as Naval/Joint Operations and missions.
AGs demonstrate expertise in Hydrography, Geospatial Information and Services (GIS), datum issues, and Tactical Decision Aids (TDA); combine knowledge of the operating environment with a thorough understanding of warfighting capabilities to assess and predict environmental impacts to friendly and enemy platforms, sensors, and weapon systems.
Aerographer's Mates develop actionable recommendations to tactics, techniques, and procedures that fully exploit environmental parameters, mitigate risk, and enable decision superiority across all warfighting areas and strategic and enabling capabilities. They distribute the data internally and externally to aircraft, ships, and shore activities via communication devices/web-centric architecture, or on-scene in direct support of afloat units, fleet/joint staffs, or combatant/operational commanders.
Career Sea - Shore Rotation
Aerographer's Mate Rating's Sea (SEA) Shore (SH) Rotation (months)
Rating
SEA1
SEA2
SEA3
SEA4
SEA/SH
AG
36
36
36
36
36/36
SH1
SH2
SH3
SH4
36
36
36
36
Sea tours and shore tours for Sailors that have completed four sea tours will be 36 months at sea followed by 36 ashore until retirement.
Qualifications, Interests, and Working Environment
Those desiring to be an Aerographer's Mate must be U.S. citizens eligible for security clearance. Applicants should have an interest in aviation and working with or around aircraft. They should be interested in weather systems and have basic skills in arithmetic, speaking, writing, and record keeping. Normal color perception is required.
Applicants should expect detailed work and repetitive tasks as part of their normal functions. Also important are a good memory and the ability to get along well with people. Helpful attributes are an interest in ideas and information, resourcefulness, curiosity, competence with tools, equipment and machines, manual dexterity and teamwork.
Men and women in the AG rating perform their duties in clean, comfortable office-like environments. Their work is usually mental, is done closely with others and the applicant should require little supervision. AG ASVAB Test requirement.
The opportunities to enter the AG rating are excellent for qualified candidates. Currently, about 1,000 men and women work in the Aerographer's Mate rating.
Personnel in the Aerographer's Mate rating are paid allowances (BAH, BAS, etc. if eligible) and basic enlisted military pay based on years of service and paygrade.
Credit Recommendations
The American Council on Education recommends that semester hour credits be awarded in the lower-division bachelor's/associates degree category for courses taken on meteorology in this rating.
Written by NCCM Thomas Goering USN(RET).