The AO Rating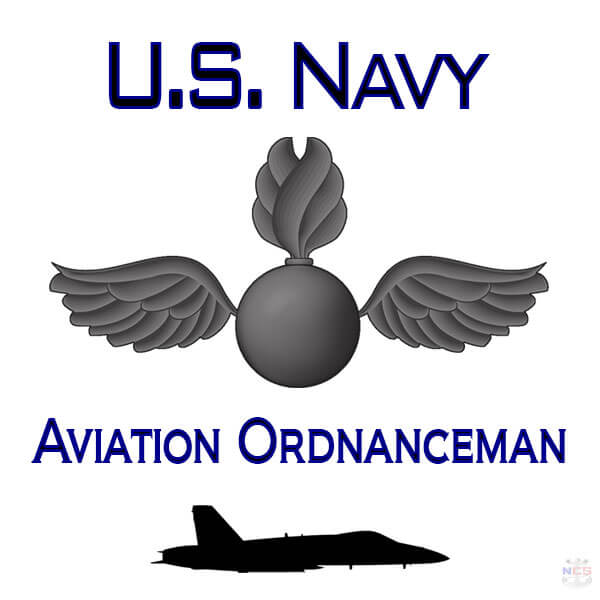 Aviation Ordnanceman was established as a rating in 1926.
The Navy's computerized personnel system associates the rating name with an alphanumeric Navy Occupational Specialty (NOS) code. For AO, the NOS is A420.
Aviation Ordnanceman are aircraft armament (weapons) specialists in charge of storing, servicing, inspecting and handling of all types of weapons and ammunition carried on Naval aircraft. Navy planes carry guns, bombs, torpedoes, rockets, and missiles to attack the enemy on the sea, under the sea, in the air, and on land.
Aviation Ordnanceman class "A" school is approximately nine weeks long. The school is located in Pensacola, Florida. The AO rating requires a 5 year minimum enlistment.
Aviation Ordnanceman (NOS A420)
Aviation Ordnancemen receive, inspect, package, store, handle, and process for shipment: airborne weapons, air launched torpedoes, aerial mines, and ammunition. They test, assemble, fuse, load, download, arm, and de-arm all airborne weapons, torpedoes, and mines for aircraft carriage, and they receive, inspect, store, load, and download sonobuoys. AOs perform authorized maintenance on airborne weapons, aircraft guns, and targets. They receive, inspect, inventory, configure, test, and maintain Armament Weapons Support Equipment (AWSE), Ordnance Handling Equipment (OHE), and materials handling equipment.
Aviation Ordnancemen test and maintain aircraft armament release and control systems, and inspect and maintain conventional ordnance magazines and Ready Service Lockers (RSL). They maintain and operate magazine sprinkler systems, and they maintain and operate the aircraft carrier weapons elevators.
AOs perform preventative maintenance and inventory small arms weapons. They manage accounting systems, rework of airborne weapons/systems/equipment, and conventional weapons qualification/certification programs, afloat and ashore. They prepare, review, maintain, and inspect compliance with directives and reports applicable to Notice of Ammunition Reclassification (NAR), High Energy Radiation Hazards to Ordnance (HERO), Weapons Certification Program, and Explosive Handling Certification Program.
Career Sea - Shore Rotation Chart
Aviation Ordnanceman Rating's Sea (SEA) Shore (SH) Rotation (months)
Rating
SEA1
SEA2
SEA3
SEA4
SEA/SH
AO
55
60
48
48
36/36
SH1
SH2
SH3
SH4
36
36
36
36
Sea tours and shore tours for Sailors that have completed four sea tours will be 36 months at sea followed by 36 ashore until retirement.
Sailors in the Aviation Ordnanceman rating can expect to spend more than half their career on sea duty assignment. Sea tour lengths for the AO rating will not involuntarily exceed 60 months for Sailors with less than 20 years of service (YOS) and 48 months for Sailors with more than 20 YOS. Shore tour lengths between sea tours will be set to 36 months long. Manning conditions at sea may require the need to request sea tour extension or shore tour curtailments to ensure all sea duty billets are filled.
Qualifications, Interests, and Working Environment
People in this rating should have above average competence with tools, equipment and machinery, possess manual dexterity and be physically fit, have skills in math and the ability to work well with others and function successfully as team members. Record keeping is also very important. Other helpful qualities include the ability to do detailed work and perform repetitive tasks.
AOs must be U.S. citizens eligible for a security clearance. Vision must correct to 20/20. Must have full field of vision. Must have normal depth perception and color perception.
AOs perform their duties at sea on flight decks and ashore in hangars, on flight lines at air stations, or in shops under various environmental conditions. They work closely with others, do mostly physical work and require little supervision. AO ASVAB Test requirement.
Approximately 8,300 men and women now work in the Aviation Ordnanceman rating. Opportunities for placement are good.
Personnel in the Aviation Ordnanceman rating are paid allowances (BAH, BAS, etc. if eligible) and billet pay (sea pay, flight pay, etc. if eligible), and basic pay based on paygrade and years of military service.
Credit Recommendations
The American Council on Education recommends that semester hour credits be awarded in the vocational certificate and lower-division bachelor's/associates degree categories for applied science, applied mathematics and mechanical maintenance courses taken in this rating.
Date Page Updated: September 2, 2018.