The EO Rating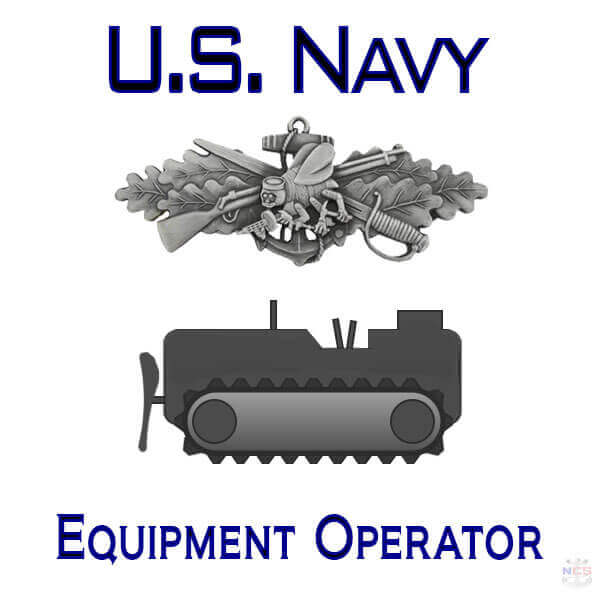 In 1948, the Driver rating was established from the original rating of Machinist's Mate (Construction Battalion) (Equipment Operators), then in 1958 the rating was changed to Equipment Operator.
The Navy's computerized personnel system associates the rating name with an alphanumeric Navy Occupational Specialty (NOS) code. For EO, the NOS is H150.
Equipment Operators work with heavy machinery such as bulldozers, power shovels, pile drivers, rollers and graders, etc. They use this machinery to dig ditches and excavate for building foundations, to break up old concrete or asphalt paving and pour new paving, to loosen soil and grade it, to dig out tree trunks and rocks, and to remove debris from construction sites. The skills learned by the EO fully transfer to similar jobs in the civilian world.
Equipment Operator class "A" school is approximately 10 weeks long, and the school is located at Fort Leonard Wood, Missouri. The EO rating requires a five-year (60 month) enlistment obligation.
Equipment Operator (NOS H150)
Equipment Operators perform tasks involving deployment and operation of automotive, materials handling, weight lifting, and construction equipment. They direct and coordinate efforts of individuals and crews in execution of construction, earth-moving, road building, quarrying, asphalt batching and paving, concrete batch plant operations, concrete paving, and transit mixer operation assignments.
EOs maintain records and reports on mobile and stationary equipment, and organize and supervise automotive and construction equipment pools. They maintain individual combat readiness, and perform tasks required in combat and disaster preparedness or recovery operations.
Career Sea - Shore Rotation Chart
Equipment Operator Rating's Sea (SEA) Shore (SH) Rotation (months)
Rating
SEA1
SEA2
SEA3
SEA4
SEA/SH
EO
52
60
42
36
36/36
SH1
SH2
SH3
SH4
36
36
36
36
Sea tours and shore tours for Sailors that have completed four sea tours will be 36 months at sea followed by 36 ashore until retirement.
Qualifications, Interests, and Working Environment
Important qualifications are a competence with tools, equipment and machines; manual dexterity; and the ability to do repetitive tasks. Knowledge of algebra and good arithmetic, writing and speaking skills, along with a good memory, resourcefulness and curiosity, are helpful.
EOs should also be able to keep records, do detailed work and perform well as part of a team. Normal color perception with stereoscopic vision, good physical condition, and normal hearing are required. Must possess a valid driver's license. Members of this rate are not required to be citizens of the United States.
EOs may work in a variety of conditions, independently or as members of a large team. Their many different duties may be performed in climates ranging from tropical to arctic. The EO ASVAB Test requirement.
About 1,200 men and women work as Equipment Operators in the Navy.
Personnel in the Equipment Operator rating are paid allowances (BAH, BAS, etc. if eligible) and military basic pay based on years of service and paygrade.
Credit Recommendations
The American Council on Education recommends the following semester hour credits in the associate and vocational degree programs, 8 semester hours in heavy construction equipment operations, 3 semester hours in construction equipment maintenance, and 1 semester hour in construction site work. An AA in Construction Technology can be earned from Coastline Community College.