The BU Rating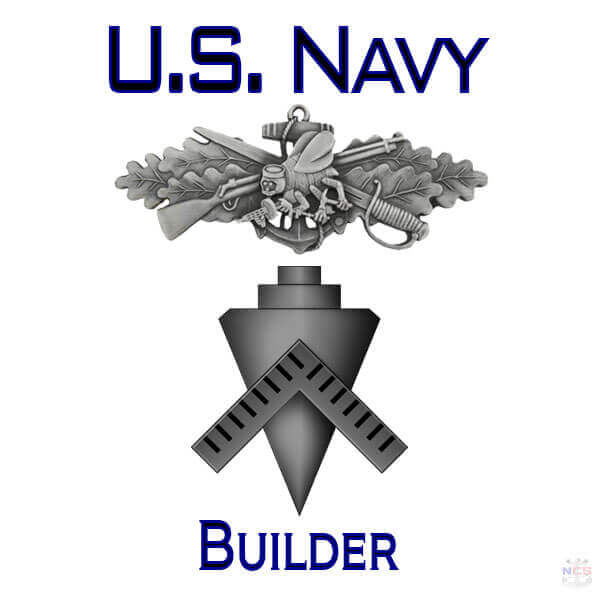 In 1948, the Navy Builder rating became an off-shoot of the original Carpenter's Mate rating. The Carpenter's Mate rating was one of the original United States Navy ratings as it was first established in 1794.
The Navy's computerized personnel system associates the rating name with an alphanumeric Navy Occupational Specialty (NOS) code. For BU, the NOS is H100.
Navy Builders make up the largest segment of the Naval Construction Force, the SeaBees. They work as carpenters, plasters, roofers, concrete finishers, masons, painters, bricklayers, and cabinet makers. Opportunities to enter the BU rating are good for qualified applicants.
This is a 5 year enlistment program. The Builder class "A" school is approximately 14 weeks long, and it is located in Gulfport, Mississippi.
Builder (NOS H100)
The duties performed by Navy Builders include building and repairing wood, masonry concrete, steel structures, and installing interior finish work, including installing sheet rock, paneling or ceramic tile walls and installing ceiling and floor tile, millwork and trim.
BUs operate carpentry, cabinet-making, and tool and equipment repair shops, and build forms for concrete construction; mix, place and finish concrete, and operate concrete batch plants, portable concrete mixers and other concrete finishing equipment and tools. BUs build wharves, bridges and other heavy timber structures.
They read and interpret blueprints and prepare sketches for projects, and make estimates of material, labor, and equipment requirements.
Career Sea - Shore Rotation Chart
Builder Rating's Sea (SEA) Shore (SH) Rotation (months)
Rating
SEA1
SEA2
SEA3
SEA4
SEA/SH
BU
54
54
42
36
36/36
SH1
SH2
SH3
SH4
36
36
36
36
Sea tours and shore tours for Sailors that have completed four sea tours will be 36 months at sea followed by 36 ashore until retirement.
Qualifications, Interests, and Working Environment
For success in the builder rating, people should be oriented toward the use of tools, equipment and machines and have a high degree of manual dexterity. Knowledge of algebra and arithmetic with mixed fractions is important. Helpful qualities are a good memory, curiosity, and an ability to get along with people and the ability to express ideas orally and in writing. Also helpful is resourcefulness, the ability to keep records, do detailed work and perform repetitive tasks. Good physical condition is also necessary.
Normal hearing is required. Normal color perception is not required. Members of this rate are not required to be citizens of the United States.
BU's may work in a variety of conditions, independently or as members of a large team. Their many different duties may be performed in climates ranging from tropical to arctic. Builder ASVAB Test requirement.
Opportunities to enter the BU rating are excellent for qualified applicants. About 1,600 men and women work as Builders in the Navy.
Personnel in the Builder rating are paid allowances (BAH, BAS, etc. if eligible) and military basic pay based on years of service and paygrade.
Credit Recommendations
The American Council on Education recommends the following semester hour credits in the associate and vocational degree programs, 3 semester hours for both construction materials and interior finish, 4 semester hours in framing and exterior finish, 1 semester hour in technical mathematics, and 2 semester hours in applied mathematics. An AA in Construction Technology and an AAS in Building Studies can be earned from Coastline Community College and Thomas Edison State College, respectively.
Date Page Updated: October 25, 2018.