The EA Rating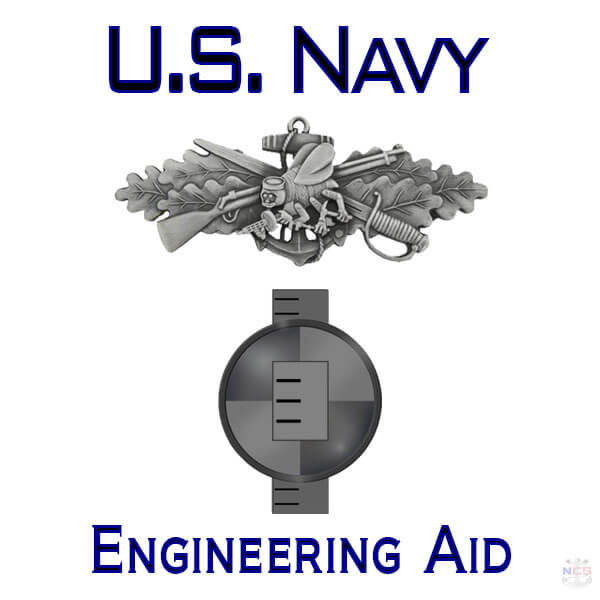 The Engineering Aid rating was originally known as a Carpenter's Mate (Surveyors), then in 1948 the rating changed to Surveyor. In 1959, the rating's name changed once again to the more familiar, Engineering Aide, and finally, in 1960, the final name tweek to form the ratings name of today, Engineering Aid.
The Navy's computerized personnel system associates the rating name with an alphanumeric Navy Occupational Specialty (NOS) code. For EA, the NOS is H140.
Engineering Aids assist construction engineers in development of final construction plans. They conduct land surveys, prepare maps, sketches, drawings and blueprints for roads, airfields, buildings, waterfront structures, pipelines, and drainage systems.
EAs estimate costs and perform quality assurance tests on common construction materials such as soils, concrete and asphalt, and perform other engineering technician functions.
Engineering Aid class "A" school is approximately 15 weeks long, and is located in Fort Leonard Wood, Missouri. This is a five-year (60 month) enlistment program.
Engineering Aid (NOS H140)
The duties performed by EAs include conducting location surveys for roads, airfields, pipelines, ditches, buildings, drainage structures, waterfront construction, preparing hydrographic, topographic and triangulation drawings and maps. They compute the volume of bulk materials (concrete, bituminous mixtures and earthwork) from drawings and specifications, and lay out all types of construction work.
EAs operate and maintain various types of precision surveying and laboratory test instruments and equipment, and prepare architectural, mechanical, electrical, and civil drawings and sketches; design grading and drainage systems, and conduct concrete, soil and asphalt tests, and quality control inspections for all types of construction projects. They prepare network analyses, charts and graphs.
EAs read and interpret blueprints and prepare sketches for projects, and make estimates of material, labor, and equipment requirements.
Career Sea - Shore Rotation Chart
Engineering Aid Rating's Sea (SEA) Shore (SH) Rotation (months)
Rating
SEA1
SEA2
SEA3
SEA4
SEA/SH
EA
36
36
36
36
36/36
SH1
SH2
SH3
SH4
48
48
48
36
Sea tours and shore tours for Sailors that have completed four sea tours will be 36 months at sea followed by 36 ashore until retirement.
Qualifications, Interests, and Working Environment
Important qualifications include high level math and record keeping skills, the ability to do detailed work and perform repetitive tasks. Engineering Aids should have an orientation toward tools, equipment and machines, and possess manual dexterity, curiosity and resourcefulness. They should have a talent for expressing ideas in writing and have a good memory.
Normal color perception is not required. Members of this rate are not required to be citizens of the United States.
Applicants for EA must have satisfactorily completed a high school or college course in trigonometry with a minimum grade of "C." Some college level training in engineering subjects is beneficial but not required. Helpful characteristics include speaking and writing skills and good physical condition. Normal hearing is required. EAs may work in a variety of conditions, independently or as members of a large team. Their many different duties may be performed in climates ranging from tropical to arctic. The EA ASVAB Test requirement.
About 170 men and women work as Engineering Aids in the Navy.
Personnel in the Engineering Aid rating are paid allowances (BAH, BAS, etc. if eligible) and military basic pay based on years of service and paygrade.
Credit Recommendations
The American Council on Education recommends the following semester hour credits in the associate and vocational degree programs, 3 semester hours for both computer aided drafting and surveying, 2 semester hours in soils testing, and 1 semester hour in concrete testing. An AA in Construction Technology can be earned from Coastline Community College.