The CE Rating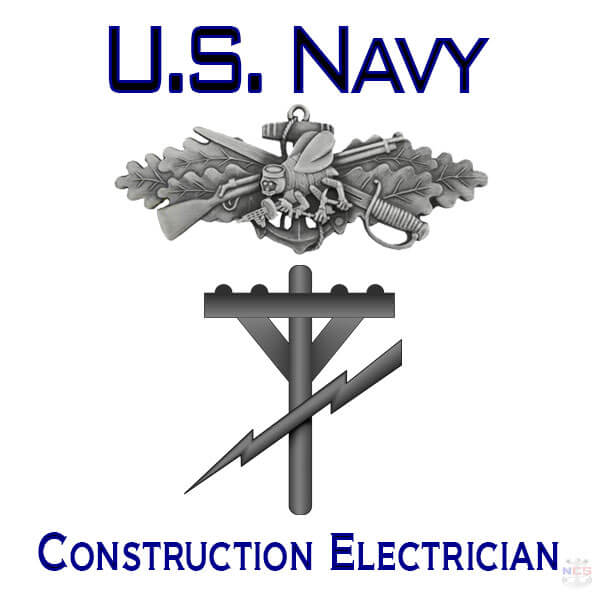 The Construction Electrician's Mate was established in 1948 from other SeaBee electrician ratings. Ultimately, in 1958, the "Mate" was officially dropped giving the rating's current name of Construction Electrician.
The Navy's computerized personnel system associates the rating name with an alphanumeric Navy Occupational Specialty (NOS) code. For CE, the NOS is H110.
Construction Electricians build, maintain, and operate power production facilities and electrical distribution systems for Naval installations. The work of the CE is like that of civilian construction electricians, powerhouse electricians, telephone and electrical repairmen, substation operators, and linemen.
Construction Electrician class "A" school is approximately 20 weeks long, and the school is located on Sheppard Air Force Base, Texas. The CE rating requires a 5 year minimum enlistment obligation.
Construction Electrician (NOS H110)
Construction Electricians install and repair interior wiring and overhead and underground primary and secondary distribution systems using conduit, raceways, and direct burial cable. CEs Install, operate, and service electrical equipment, they climb poles and towers utilizing lineman equipment. They attach and service electrical equipment (i.e. transformers, switching and protective devices, motors, motor controllers, portable generators and their distribution systems, telephones and their systems, interior/exterior security, and portable lighting systems).
Construction Electricians prepare progress reports, time records, construction schedules, and material, labor, tool and equipment estimates for construction projects. They act as project supervisors and trainers for junior personnel. Duties include problem solving, planning, estimating, scheduling, cost control, and personnel management. As project managers, they plan, staff, direct and control multiple construction projects, and they ensure compliance with specifications, code requirements, plans, and contracts. CEs maintain individual combat readiness and perform tasks required in combat and disaster preparedness or recovery operations.
Career Sea - Shore Rotation Chart
Construction Electrician Rating's Sea (SEA) Shore (SH) Rotation (months)
Rating
SEA1
SEA2
SEA3
SEA4
SEA/SH
CE
52
36
36
36
36/36
SH1
SH2
SH3
SH4
42
42
42
36
Sea tours and shore tours for Sailors that have completed four sea tours will be 36 months at sea followed by 36 ashore until retirement.
Qualifications, Interests, and Working Environment
Construction Electricians must be proficient with tools, equipment and machines and be able to climb to the top of a 35-foot wooden pole, using gaffs (metal spikes on climbing boots). The climber must attach a safety strap, circle 360 degrees both ways, disengage the safety strap and descend the pole within a six-minute time limit. The poles do not have steps or pegs. All CE's are required to use lineman's equipment to climb poles and towers. Other important qualifications include, knowledge of algebra, a good memory, resourcefulness and curiosity.
It is also important that Construction Electricians be able to do detailed work and repetitive tasks, and keep accurate records. They must be able to get along with people and work well as team members. Helpful characteristics include above speaking and writing skills and good physical condition.
Normal hearing, color perception, and corrected vision to 20/20 are required. Members of this rate are not required to be citizens of the United States.
CEs may work in a variety of conditions, independently or as members of a large team. Their many different duties may be performed in climates ranging from tropical to arctic. CE ASVAB Test requirement.
Opportunities to enter the CE rating are excellent for highly qualified applicants. About 1,000 men and women work as Construction Electricians in the Navy.
Personnel in the Construction Electrician rating are paid allowances (BAH, BAS, etc. if eligible) and enlisted basic military pay based on years of service and paygrade.
Credit Recommendations
The American Council on Education recommends the following semester hour credits in the associate and vocational degree programs, 3 semester hours for both electronic power distribution systems and residential wiring, 2 semester hours for both ac circuits and electric motor control, and 1 semester hour in DC circuits. An AAS of Applied Electronic Studies with specialty in Electronics can be earned from Thomas Edison State College.