The EN Rating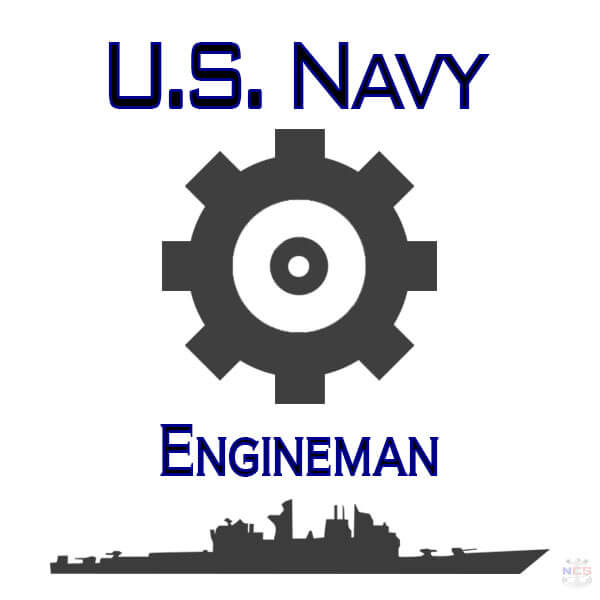 The Engineman rating was first established in 1917, and then disestablished 1931. In 1948, Engineman was re-established as a Navy rating when the ratings of Motor Machinist's Mate, Motor Machinist's Mate (SR) (Diesel Engine Mechanics), and Motor Machinist's Mate (SR) (Gasoline Engine Mechanics) were consolidated.
The Navy's computerized personnel system associates the rating name with an alphanumeric Navy Occupational Specialty (NOS) code. For EN, the NOS is B110.
Enginemen (EN) operate, maintain, and repair (organizational and intermediate level) internal-combustion engines, main propulsion machinery, refrigeration, air conditioning, gas turbine engines, and assigned auxiliary equipment on Navy ships; stand safety watches on auxiliary boilers and other assigned equipment.
Engineman class "A" school is 14 weeks in duration. The school is located in Great Lakes, Illinois. The EM rating requires a 60 month (5 year) service obligation for those leaving for boot-camp in Fiscal Year 2018 and beyond.
Per NAVADMIN 382/12, the Full Time Support Engineman rating is to be disestablished effective October 1, 2013, and articulates the realignment of the MM and EN ratings.
Engineman (NOS B110)
The duties performed by Enginemen include aligning piping systems for oil, water, and air for controlling the operation of diesel engines used for ship propulsion and service systems, and controlling operation of diesel generators used to produce electrical power. They clean, adjust, test and perform other preventive maintenance on a ship's auxiliary boilers, main engines, diesel generators and other auxiliary machinery including steering engines, elevators, winches, pumps and associated valves.
ENs operate and maintain desalinization plants (distilling plants) to make fresh water from sea water, and they maintain refrigeration plants, air conditioning systems and galley equipment. They repair or replace valves, pumps, heat exchangers, compressors, steam turbines and hydraulic or pneumatic control devices. ENs can also operate and maintain small boats. They make entries in and analyze machinery operating records and reports.
Career Sea - Shore Rotation Chart
Rating's Sea (SEA) Shore (SH) Rotation (months)
Rating
SEA1
SEA2
SEA3
SEA4
SEA/SH
EN
55
60
48
48
36/36
SH1
SH2
SH3
SH4
36
36
36
36
Sea tours and shore tours for Sailors that have completed four sea tours will be 36 months at sea followed by 36 ashore until retirement.
Sailors in the Engineman rating can expect to spend more than half their career on sea duty assignment. Sea tour lengths for the EN rating will not involuntarily exceed 60 months for Sailors with less than 20 years of service (YOS) and 48 months for Sailors with more than 20 YOS. Shore tour lengths between sea tours will be set to 36 months long. Manning conditions at sea may require the need to request sea tour extension or shore tour curtailments to ensure all sea duty billets are filled.
Qualifications, Interests, and Working Environment
Engineman should have clear speech, physical stamina, manual dexterity and the ability to work with others as a team. They should know how to use common hand and power tools and enjoy working with mechanical devices. Other helpful characteristics are resourcefulness and an interest in learning new ideas and skills. Curiosity, record keeping talent and physical strength are also required.
Normal hearing is required. Normal color perception is not required. Members of this rate are not required to be citizens of the United States.
Enginemen work any where on a ship in main engine rooms, auxiliary machinery rooms, engine rooms or shops. These locations are sometimes hot and noisy. ENs may be required to perform some heavy physical work. They must be able to work closely with others and, in some cases, with limited supervision. Engineman ASVAB Test requirement.
The Navy has a continuing need for qualified Engineman. Approximately 5,500 men and women perform duties in the EN rating aboard ships and at shore stations. Opportunities for placement are excellent for qualified candidates.
Personnel in the Engineman rating are paid allowances (BAH, BAS, etc. if eligible) and billet pay (sea pay, etc. if eligible), and military basic pay based on years of service and paygrade.
Credit Recommendations
The American Council on Education recommends that semester hour credits be awarded in the vocational certificate or lower-division bachelor's/associates degree categories for courses taken in this rating on machine technology, machine shop mathematics, blueprint reading and metric system of measurement.