The DC Rating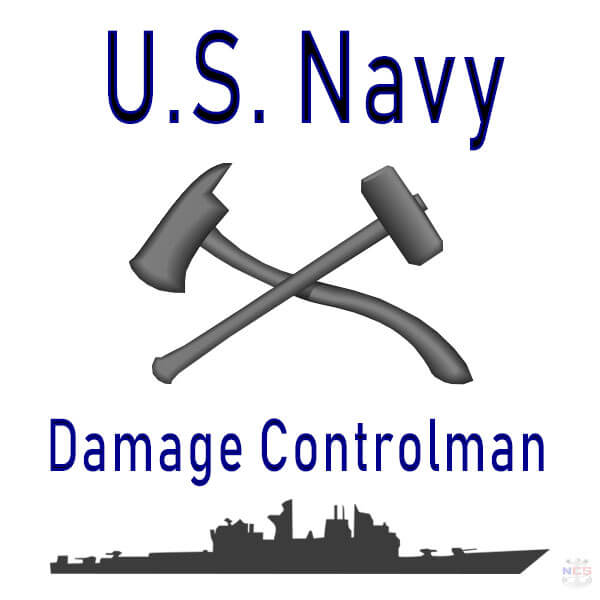 In 1948, the Damage Controlman rating was established as a result of the consolidation of the Specialist (F) (Fire Fighters), Carpenter's Mate, Carpenter's Mate (SR) (Joiners), Carpenter's Mate (SR) (Builders), and Painter ratings.
Additionally, in 1954, the Chemical Warfareman rating was disestablished and its responsibilities included in the DC rating. In 1972, the DC rating was dissolved and folded into the Hull Maintenance Technician (HT) rating, and in 1987, the rating's duties were once again broken out reestablishing Damage Controlman as a rating.
The Navy's computerized personnel system associates the rating name with an alphanumeric Navy Occupational Specialty (NOS) code. For DC, the NOS is B200.
DC's do the work necessary for damage control, ship stability, firefighting, fire prevention, and chemical, biological and radiological (CBR) warfare defense. They also instruct personnel in the methods of damage control and CBR defense, and repair damage control equipment and systems.
Damage Controlman class "A" school is approximately 10 weeks in duration. The school is located in Great Lakes, Illinois. The DC rating requires a 60 month (5 year) service obligation for those leaving for boot-camp in Fiscal Year 2018 and beyond.
Damage Controlman (NOS B200)
The duties performed by DCs include operating, repairing and maintaining installed firefighting systems and equipment, damage control equipment, and chemical, biological and radiological defense equipment. They train shipboard personnel in the operation, maintenance and repair of damage control systems and equipment, life saving devices, and various firefighting methods.
Damage Controlmen perform emergency repairs to decks, structures and hulls by emergency pipe patching, plugging, and shoring. They perform maintenance and repair of watertight closures and assorted fittings, and perform emergency repairs to piping fittings and fixtures.
DCs act as the ship's Fire Marshal and fire fighting leaders, and they train the ship's company in chemical, biological and radiological defense.
Career Sea - Shore Rotation Chart
Rating's Sea (SEA) Shore (SH) Rotation (months)
Rating
SEA1
SEA2
SEA3
SEA4
SEA/SH
DC
54
60
48
48
36/36
SH1
SH2
SH3
SH4
36
36
36
36
Sea tours and shore tours for Sailors that have completed four sea tours will be 36 months at sea followed by 36 ashore until retirement.
Sailors in the Damage Controlman rating can expect to spend more than half their career on sea duty assignment. Sea tour lengths for the DC rating will not involuntarily exceed 60 months for Sailors with less than 20 years of service (YOS) and 48 months for Sailors with more than 20 YOS. Shore tour lengths between sea tours will be set to 36 months long. Manning conditions at sea may require the need to request sea tour extension or shore tour curtailments to ensure all sea duty billets are filled.
Qualifications, Interests, and Working Environment
An important qualification for people interested in the DC rating is the ability to use portable tools, equipment and machines. They also need good vision and normal color perception, manual dexterity, a good memory and resourcefulness. The ability to do detailed work and to work successfully in a team operation is essential. They should feel comfortable in front of small groups. Prior experience in leading others is a valuable asset. Writing, speaking and arithmetic skills, curiosity, physical strength, the ability to keep records and do repetitive tasks is also helpful.
Normal color perception is required. Members of this rate are not required to be citizens of the United States.
Damage Controlmen work in a variety of climates at sea and ashore. They normally perform their work at sea in a controlled climate, but are often called upon, to work in machinery spaces and flight decks in various sea states and weather conditions.
DC's may work in noisy environments on machinery spaces and flight decks in various sea states and weather conditions. People in this rating work closely with others, usually supervise and teach others and often do physical work. DC ASVAB Test requirement.
Entry opportunities into the Damage Controlman rating are limited. Only highly qualified applicants have an opportunity for placement. Advancement opportunities are fair in the DC rating. About 3,300 men and women work in the Damage Controlman rating.
Personnel in the Damage Controlman rating are paid allowances (BAH, BAS, etc. if eligible) and billet pay (sea pay, etc. if eligible), and military basic pay based on years of service and paygrade.
Credit Recommendations
The American Council on Education recommends that semester hour credits in the associate/bachelor degree programs and vocational certificate categories for courses completed.