The ND Rating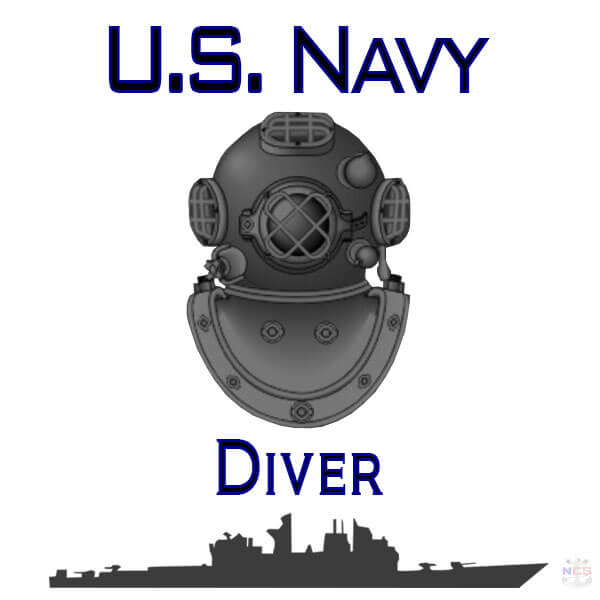 The Navy Diver rating was established and made available at enlistment in 2006; First Class thru Master Chief Petty Officer conversion date was June 1, 2006 and Seaman Recruit thru Second Class Petty Officer conversion followed on October 1, 2006.
The Navy's computerized personnel system associates the rating name with an alphanumeric Navy Occupational Specialty (NOS) code. For ND, the NOS is E100.
Navy Divers perform underwater salvage, repair and maintenance, submarine rescue and support Special Warfare and Explosive Ordnance Disposal while using a variety of diving equipment. They also maintain and repair diving systems.
Navy Diver class "A" school is 15 weeks in duration, and it is located in Panama City, Florida. Before attending the class "A" school, a seven week preparatory school will be completed at Naval Training Center, Great Lakes, Illinois. The Navy Diver rating requires a minimum of a six year enlistment obligation.
Navy Diver job description (NOS E100)
Enlistees are taught the fundamentals of diving through formal Navy schooling and on the job training. After "A" school Navy Diver candidates attend Second Class Diver Training at Panama City, Fla. Advanced First Class Diver, Saturation Diver and Master Diver training are available during career progression stages.
Navy Divers perform underwater salvage, recovery, repair, and maintenance on ships and submarines. They search for and recover downed aircraft, conduct harbor clearance operations, and provide assistance to military, federal, state, and local civilian law enforcement agencies in diving operations and procedures. NDs maintain and repair diving equipment and systems, and research and develop new diving techniques and procedures, and conduct submarine rescue operations.
Navy Divers perform and supervise recompression chamber operations, hyperbaric treatment for diving and non-diving illnesses, open and closed-circuit Underwater Breathing Apparatus (UBA) diving, surface-supplied air and mixed-gas diving operations, demolition operations, and small arms proficiency.
Career Sea - Shore Rotation Chart
Navy Diver Rating's Sea (SEA) Shore (SH) Rotation (months)
Rating
SEA1
SEA2
SEA3
SEA4
SEA/SH
ND
36
36
36
36
36/36
SH1
SH2
SH3
SH4
36
36
36
36
Sea tours and shore tours for Sailors that have completed four sea tours will be 36 months at sea followed by 36 ashore until retirement.
Qualifications, Interests, and Working Environment
Effective November 21, 2014, to qualify for the Navy Diver rating, one must pass the Physical Screening Test and C-SORT.
Personnel who volunteer for Navy Diver must be in excellent physical condition. Comfort in the water beyond good swimming ability and no aversion to confinement in close spaces is a must. The ability to perform detailed mechanical tasks under stress and/or adverse conditions is important. Helpful attributes are a good memory, resourcefulness, and administrative capabilities.
Navy Diver candidates must be U.S. citizens eligible for security clearance, and must be 30 years of age or less at time of accession. Adversely adjudicated drug abuse offenses will not receive waiver consideration with the potential exception of a single misdemeanor charge involving marijuana (only on a case-by-case basis). Uncorrected vision can be no worse than 20/200 in each eye. Both eyes must correct to 20/25. Lack of adequate color vision is disqualifying. No color deficiency waivers are authorized.
The motto of the Navy Diver community is "We dive the world over". Because divers may be assigned in any part of the world, their environment will vary as widely as water conditions; cold, muddy water where underwater tasks can be completed by feel only, or warm, tropical waters clear enough to perform underwater photography. Diver ASVAB Test score requirement.
Approximately 1,225 Sailors currently work in the Navy Diver rating.
Personnel in the Navy Diver rating are paid allowances (BAH, BAS, etc. if eligible) and military basic enlisted pay based on years of service and paygrade.
Credit Recommendations
The American Council on Education recommends that semester hour credits be awarded in the vocational certificate and lower-division bachelor's/associates degree categories for courses taken in this rating on oceanography, general, and business studies.
Date Page Updated: September 10, 2018.