The SO Rating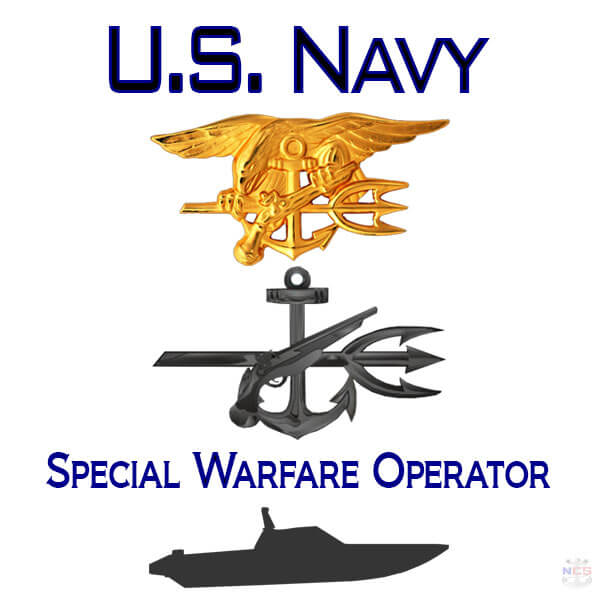 Today's SEALs trace their history from the elite frogmen of World War II. The initial group of men were volunteers selected from Seabee Construction Battalions. The first official SEAL Teams were established in 1962. Prior to the establishment of the Special Warfare Operator rating in 2006, members of the SEAL Teams would be made up of qualified volunteers from other source ratings.
The Navy's computerized personnel system associates the rating name with an alphanumeric Navy Occupational Specialty (NOS) code. For SO, the NOS is E300.
SEALs are named after the environments in which they operate, the SEa, Air and Land, and are the foundation of Naval Special Warfare combat forces. They are organized, trained and equipped to conduct a variety of special operations missions in all operational environments. Training is extremely demanding, both mentally and physically, producing the world's best warriors in the sea, air, and on land.
The Special Warfare Operator rating requires a 72 month (six year) enlistment obligation.
Before attending Special Warfare Operator "A" school, candidates must complete eight weeks of preparatory school in Great Lakes, Illinois and three weeks of Basic Underwater Demolition/SEAL (BUD/S) indoctrination in Coronado, California. The SO "A" school (BUD/S), also located in Coronado, is 21 weeks in duration. Following successful completion of BUD/S, members will continue the formal SEAL Qualification Training for 28 weeks, and then proceed to San Diego, CA for 12 weeks of language training.
Special Warfare Operator - SEAL (NOS E300)
Special Warfare Operators (SEALs) perform a multitude of duties in support of special operations missions and operate on, under and from the sea, in the air and on land. These duties require skills in combat diving, paradrop and air operations, small boat operations, submarine and submersible operations, land warfare, small unit tactics, mounted and dismounted operations, small arms and crew served weapons, explosives, communications, tactical medicine, mission planning, intelligence gathering and interpretation, joint and combined operations, and Chemical, Biological, Radiological, and Nuclear Explosive (CBRNE) defense measures in all environments including urban, desert, jungle, arctic, and mountain warfare.
SEAL trained Special Operations Medical Technicians receive additional specialized medical training.
Career Sea - Shore Rotation Chart
Special Warfare Operator Rating's Sea (SEA) Shore (SH) Rotation (months)
Rating
SEA1
SEA2
SEA3
SEA4
SEA/SH
SO
60
60
48
48
36/36
SH1
SH2
SH3
SH4
36
36
36
36
The Naval Special Warfare community is a sea-intensive community. Due to the unique nature of the special warfare mission, Sailors in the elite rating of Naval Special Warfare Operator (SO) should expect to serve back-to-back sea tours prior to assignment ashore. Sailors in this rating can expect their initial back-to-back sea tours to be within the same geographic location, contingent upon the needs of the Navy and NSW.
Qualifications, Interests, and Working Environment
Qualifying for SEAL (SO Rating) in Delayed Entry Program is preferred and accounts for the majority of SEAL applicants in the Basic Underwater Demolition/SEAL (BUD/S) training pipeline. Candidates may also volunteer for SO (SEAL) during basic training at Recruit Training Center, or at any time during their enlistment prior to their 29th birthday.
NSW/NSO "Dive" Motivators, at RTC, give presentations on the Navy's NSW/NSO programs, conduct the physical screening tests, and assist interested Recruits with their applications at RTC. A more stringent physical examination and medical screening is conducted at RTC. Recruit's entrance medical examinations will be reviewed for diving qualifications, and further physical screening tests will be given at the Recruit Training Command and at BUD/S.
SEAL Challenge candidates must be mature, motivated, self-assured and self-confident, willing to follow orders and able to work under stressful and hazardous conditions. They must be in excellent physical condition and motivated to withstand the rigorous physiological demands imposed by the maritime environment. The ability to swim and withstand fatigue is a major factor in successful completion of the training. Other necessary characteristics needed are good study habits and learning skills, knowledge of arithmetic and basic algebra, mechanical skills and manual dexterity.
BUD/S training is physically and mentally demanding.
Applicants must be U.S. citizens eligible for a security clearance. Adversely adjudicated drug abuse offenses will not receive waiver consideration with the potential exception of a single misdemeanor charge involving marijuana (only on a case-by-case basis). Normal color perception is required. Uncorrected vision can be no worse than 20/40 in best eye and 20/70 in worst eye. Corrected vision must be 20/25 worst eye. No color deficiency waivers authorized.
SEALs perform Special Operations missions from fixed wing aircraft, helicopters, ships and submarines. They may be exposed to arctic, desert or jungle environments including survival in enemy controlled areas and all water conditions. They may also perform administrative and foreign training missions in a wide variety of climates throughout the world. SEAL ASVAB Test score requirement.
About 2,400 Sailors work in the Navy's Special Warfare Operator (SEAL) rating.
SEALs receive extra pay for special duty assignment, diving, parachuting, and demolition. If eligible, they are also paid allowances (BAH, BAS, etc. if eligible), and, of course, they receive basic military pay based on years of service and paygrade.
Credit Recommendations
The American Council on Education recommends that semester hour credits be awarded in the vocational certificate and lower-division bachelor's/associates degree categories for courses taken in this rating.
Date Page Modified: October 8, 2018.