The MT Rating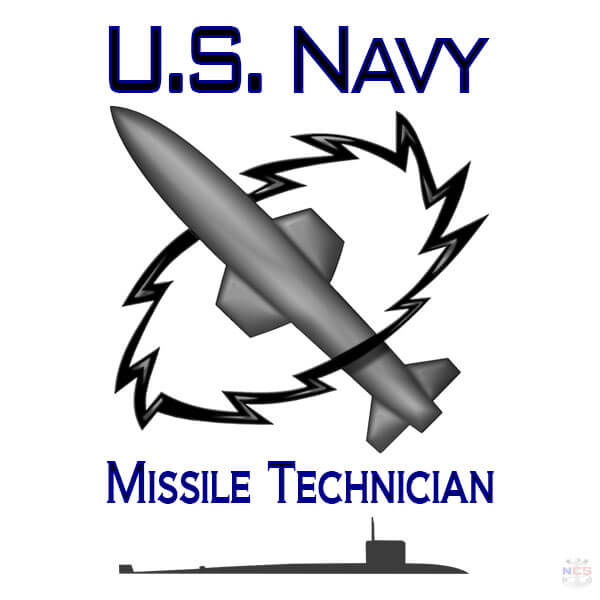 Originally established as the Guided Missileman rating in 1953, it was not until 1961 that the rating took its name of present day, Missile Technician.
The Navy's computerized personnel system associates the rating name with an alphanumeric Navy Occupational Specialty (NOS) code. For MT, the NOS is C180.
Missile Technicians (Submarines) receive extensive training in the operation and maintenance of advanced electronic equipment and computers and electromechanical support systems used in submarine strategic weapons systems. Responsible for the assembly, maintenance and repair of nuclear-capable ballistic missiles carried on submarines and their associated advanced electronics and electromechanical navigation and targeting systems, MTs are a vital element in the maintenance of strategic deterrence so vital to the security of the United States.
After completion of approximately seven weeks of Basic Submarine and Basic Mechanical Skills schools in Groton, Connecticut, those attending Missile Technician class "A" school will complete five weeks of instruction in Kings Bay, Georgia, then they will attend approximately 23 weeks of class "C" school, also at Kings Bay, Georgia or in Bangor, Washington. Members that will be assigned to the SSGN platform will then proceed to Kings Bay, GA for five weeks of AWS Replacement (advanced electronics & electricity, mechanical systems and repair on Tomahawk missiles and launching systems).
Missile Technician (NOS C180)
The duties, technical and manual, performed by Missile Technicians include maintaining ballistic missiles and their launching systems, and maintaining related launching systems including high-pressure air and hydraulic systems.
MTs operate and maintain digital computers, and maintain operating efficiency of electrical distribution panels, switches, switchboards, controllers, voltage regulators, current transformers, rectifiers and voltage transformers within the fleet ballistic missile weapons systems. They test and repair ballistic guidance systems, and operate, maintain and adjust optical measuring equipment, test, align and adjust missiles and components, and repair missiles and related components.
MTs test, align, adjust, calibrate and repair support handling equipment, stow missiles and components, maintain logs and prepare reports. They provide security in missile launch spaces aboard submarines. MTs maintain and operate ballistic missile fire control systems and equipment for Trident submarines. They maintain control of classified material, and monitor and ensure security of weapons system components and material.
Career Sea - Shore Rotation Chart
Missile Technician Rating's Sea (SEA) Shore (SH) Rotation (months)
Rating
SEA1
SEA2
SEA3
SEA4
SEA/SH
MT
48
42
36
30
30/30
SH1
SH2
SH3
SH4
36
36
36
30
Sea tours and shore tours for Sailors that have completed four sea tours will be 30 months at sea followed by 30 ashore until retirement.
Qualifications, Interests, and Working Environment
An interest in ideas and information, good memory, the ability to do detailed work, keep accurate records and be a team worker are important qualifications. Resourcefulness, curiosity, competence with tools, equipment and machines, manual dexterity and the ability to do repetitive tasks are also helpful.
Normal color perception is required.
MTs must be U.S. citizens eligible for a security clearance. A Single Scope Background Investigation (SSBI) and a Personnel Reliability Program (PRP) screening are required. Active duty obligation is six years. Applicants will enlist for four years and concurrently execute an agreement to extend their enlistment for 24 months. Men in the MT rating usually work indoors, although they may sometimes work outdoors while doing such tasks as loading missiles. They work in a submarine environment, are closely supervised and do both mental and physical work. MT's ASVAB Test requirement.
Approximately 1,200 active duty Sailors perform duties in the Navy Missile Technician rating.
Personnel in the Missile Technician rating are paid allowances (BAH, BAS, etc. if eligible) and billet pay (sea pay, submarine pay, etc. if eligible), and basic enlisted military pay based on years of service and paygrade.
Credit Recommendations
The American Council on Education recommends that semester hour credits be awarded in the vocational certificate or lower-division bachelor's/associates degree categories for courses taken in this rating on basic electricity/electronics and applied mathematics. The following are degree programs that relate directly to the MT rating: Electronic Technology, Computer Science Technology, General Engineering, and Applied Electronics.
Date Page Updated: September 29, 2018.