The IT Rating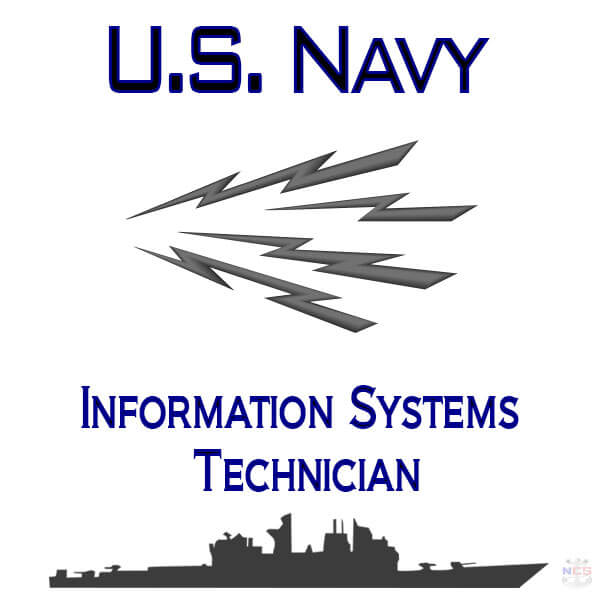 The Radioman rating was first established in 1921. The Navy Data Processing Technician (DP) rating merged into the Radioman rating in 1997. The Radioman rating's name was changed to Information Systems Technician in November 1999. On March 1, 2006, the Cryptologic Technician (Communications) CTO rating merged into the IT rating.
The Navy's computerized personnel system associates the rating name with an alphanumeric Navy Occupational Specialty (NOS) code. For IT, the NOS is B460; for ITS, C260.
The IT of the 21st century operates and maintains the Navy's global satellite telecommunications systems, mainframe computers, local and wide area networks, and micro-computer systems used in the fleet. Administrative support is also provided with the operation of automated equipment that keeps records of personnel training, disbursement, health, assignments and promotions within the Navy. They ensure the all-important communications link between units at sea and stations ashore.
Information Systems Technician class "A" school is approximately 24 weeks in duration. The school is located in Pensacola, Florida.
Information Systems Technician Surface (NOS B460) Submarines (NOS C260)
Information System Technicians perform core and specialty functions of communications operations, message processing, network administration and security.
In the area of Communications Operations; IT Technicians establish, monitor, and maintain radio frequency (RF) communications systems both ashore and afloat. Specifically, they plan, coordinate establishment, monitor, troubleshoot, and restore classified and unclassified RF communication systems that support exchange of voice, data, video and imagery using terrestrial or satellite VLF, LF, MF, HF, VHF, UHF, SHF and EHF frequency spectrums afloat and ashore. Additionally, specialists in this area may perform spectrum management - coordinate and generate frequency assignments for use within area of responsibility, assess the impact of new frequency requirements upon the existing radio frequency environment, maintain a history of interference incidents and frequency employment files, initiate action as appropriate to prevent and/or correct harmful interference, and resolve joint and space interference.
In the area of Message Processing; IT Technicians provide message handling, storage, and retrieval of incoming and outgoing messages afloat and ashore. They are able to maintain connectivity between shipboard LAN and message delivery systems ashore across any time zone, 24 hours a day. They administer user profiles, and maintain directory information tree. IT Technicians operate the Defense Messaging Systems, NAVMACS, and other automated message processing systems.
In the area of Network Administration; IT Technicians provide technical assistance and resolve computer problems for clients. IT Technicians provide assistance concerning the use of computer hardware and software, including printing, installation, word-processing, electronic mail, and operating systems. They conduct help desk functions and repair fiber optics and a variety of cables. Additionally, IT Technicians conduct day-to-day operations such as system backups and restores, and add, modify, or delete user accounts. They install operating systems, applications and peripherals, troubleshoot user problems, debug command language scripts, and assist the Information Systems Security Officer (ISSO) in access control security (i.e., passwords, access and control lists, etc). They may also perform advanced Network operations, administration, maintenance and training. IT Technicians analyze, test, and evaluate network systems, Internet, Intranet, and other data communications systems. They perform network modeling, analysis, and planning. They research and recommend network and data communications hardware and software solutions.
In the area of Security; IT Technicians manage, plan and coordinate unit-level security of information systems and integration across Platforms, Fleets and Services, as well as ensure the proper security, distribution, handling, accounting, reporting, and control of COMSEC materials, systems and equipment. Job requirements include graduation from EKMS School and/or ISSM "C" School. Personnel in this job are required to have significant security programs experience, including serving as a supervisor of an "IT" division.
They also monitor, detect and report, and protect network computer systems against the threat of network intrusion and unauthorized access. Protect and recover information from loss or damage using backups, virus detection, and recovery software procedures. They manage and validate network system security using hardware, software and established procedures. They work with Information Assurance (IA) and Computer Network Defense (CND) programs.
NAVADMIN 406/10 announced the establishment of the Information Systems Technician Submarine Service rating (ITS). Navy Recruiting Command will start enlisting applicants into available billets for fiscal year 2012. Conversion for Sailors in eligible ratings can convert to the ITS rating beginning April 1, 2011. Active duty members serving in other non-nuclear rates that possess Microsoft (MS) A+ and or Microsoft Certified Professional (MCP) are highly encouraged to request conversion to ITS. Read NAVADMIN 406/10 in its entirety for more specific information.
Career Sea - Shore Rotation Chart
Information Systems Technician Rating's Sea (SEA) Shore (SH) Rotation (months)
Rating
SEA1
SEA2
SEA3
SEA4
SEA/SH
IT
48
36
36
36
36/36
ITS
54
48
42
36
SH1
SH2
SH3
SH4
IT
36
36
36
36
ITS
36
36
36
36
Sea tours and shore tours for Sailors that have completed four sea tours will be 36 months at sea followed by 36 ashore until retirement.
Inside the United States (INUS)/outside the United States (OUTUS): Sailors in INUS/OUTUS communities have sea shore flow career paths based on a rotation between INUS and OUTUS duty assignments. Assignment to sea and/or OUTUS duty (types 2, 3, 4, and 6) will be considered sea tours for sea shore rotation purposes. Assignment to INUS shore duty (type 1) will be considered shore tours for rotation purposes.
Information Technology (non-submariner) billet requirements overseas require that the IT community follows a career path based on INUS/OUTUS vice rotation. Tour assignments for the IT community will be based on INUS/OUTUS career paths, as described above.
Qualifications, Interests, and Working Environment
Information Systems Technician applicants must be U.S. citizens and meet eligibility requirements for access to sensitive compartmented information (SCI). Eligibility for a Top Secret clearance is determined by the results of a Single Scope Background Investigation (SSBI) followed by a reinvestigation every five years. Applicants' immediate family members, including parents, sibling(s), and spouse, must be U.S. citizens or from a low risk country as defined by Intelligence Community Directive 704. Moral turpitude offense(s) are generally disqualifying. Adversely adjudicated drug abuse offenses will not receive waiver consideration.
Normal color perception and hearing are required.
Other helpful characteristics are a good working knowledge of arithmetic, the capability for understanding modern computing devices, the ability to speak and write well and function as a member of an integrated team, do detailed work and keep accurate records, some physical strength and good manual dexterity are important qualifications.
Information Systems Technicians usually work in a clean, air-conditioned electronic equipment space or computer room, and frequently perform their work as part of a team, but may work on individual projects. Their work is mostly mental analysis and problem solving. Information Systems Technician ASVAB Test requirement.
Because of the skills and expertise needed by the Information Systems Technician, acceptance is limited to highly motivated and qualified applicants. About 10,000 men and women work in the IT rating.
Financial Responsibility
No person shall be selected who has a history of bad checks (unless through bank error), repossessions, canceled or suspended charge accounts, or indebtedness exceeding half the annual salary of the pay grade at which the applicant is being recruited. If indebtedness includes a long-term mortgage, total indebtedness must not exceed 2½ times the annual salary.
Personnel in the Information Systems Technician rating are paid allowances (BAH, BAS, etc. if eligible) and billet pay (sea pay, flight pay, submarine pay, etc. if eligible), and basic pay based on years of military service and paygrade.
Credit Recommendations
American Council on Education recommends 16 semester hours credit in the lower division baccalaureate/Associate degree category: 3 semester hours in Introduction to Data Processing, 3 semester hours in Computer Operations, 3 semester hours in Computer Design, 3 semester hours in Computer Program Concepts, 2 semester hours in Electronic Communication Systems and 2 semester hours in Record Keeping.
Date Page Modified: September 11, 2018.