Surface Warfare Officer Program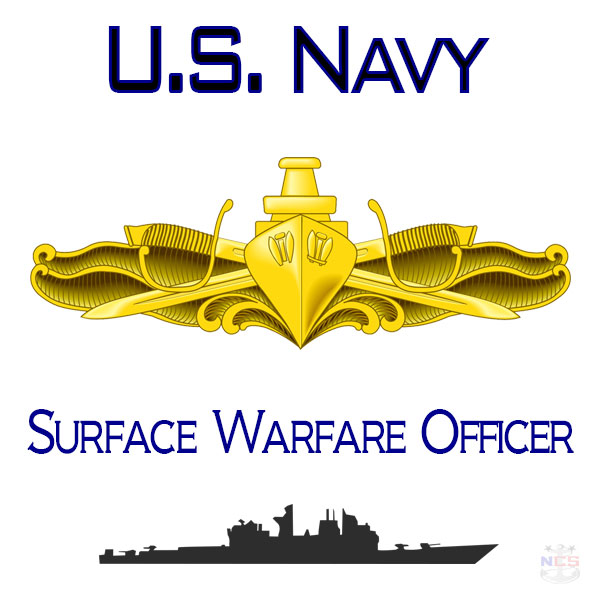 The basic requirements for selection to the Navy Surface Warfare Officer Candidate indoctrination and training program for college graduates. Program leads to a commission in the Unrestricted Line of the U.S. Navy as an Ensign, designator 1160.
Those selected will attend Officer Candidate School located in Newport, Rhode Island.
SWO Officer Qualifications
Applicants must be a citizen of the United States. Applicants must be at least 19 years old and not have passed their 32nd birthday at time of commissioning.
Education
All applicants must have a baccalaureate degree from a regionally accredited institution and must have a cumulative grade point average (GPA) of at least 2.5 on a 4.0 scale.
Aptitude
Must achieve a minimum of a 40 Officer Aptitude Rating.
Waivers
In cases where the applicant does not meet all of the qualifications, but otherwise has an exceptional record or proven skillset required by the Navy, a waiver may be authorized in limited numbers. Contact your local Officer Recruiter for details.
Physical
In line with the Manual of the Medical Department, Chapter 15 and as detailed in Medical Standards for Appointment, Enlistment, Or Induction in the Military Services, DoD Instruction 6130.03 of 6 May 2018. Candidates must meet the physical fitness weight and/or percentage of body fat standards at the time of application and at time of commissioning.
Moral Character
Per Department of Defense Instruction 1304.26: Persons entering the Armed Forces should be of good moral character. The underlying purpose of moral character enlistment standards is to minimize entrance of persons who are likely to become disciplinary cases or security risks or who disrupt good order, morale, and discipline. The Military Services are responsible for the defense of the nation and should not be viewed as a source of rehabilitation for those who have not subscribed to the legal and moral standards of society at large. Moral standards of acceptability for service are designed to disqualify the following categories of persons (Navy Moral Waiver Guide):
Individuals under any form of judicial restraint (bond, probation, imprisonment, and/or parole).
Those with significant criminal records.
Persons convicted of felonies may request a waiver to permit their enlistment. The waiver procedure is not automatic and approval is based on each individual case, including consideration of the individual's adjustment to civilian life.
In processing waiver requests, the Military Services shall require information about the "who, what, when, where, and/or why" of the offense in question; and a number of letters of recommendation from responsible community leaders; such as school officials, ministers, and law enforcement officials, attesting to the applicant's character or suitability for enlistment.
Those who have been previously separated from the Military Services under conditions other than honorable or for the good of the Military Service concerned.
Those who have exhibited antisocial behavior or other traits of character that may render them unfit to associate with military personnel.
Training
Selectees will attend Officer Candidate School, Officer Training Command Newport, Rhode Island. Following commissioning, officers will normally be assigned to designator specific training as appropriate.
Enlistment
Civilians and Enlisted applicants in paygrades E4 or below, who are selected for this program are designated Officer Candidates and advanced to paygrade E5 upon reporting to OCS. Enlisted applicants in paygrade E5 and above are designated Officer Candidates in their present paygrade.
Pay and Allowances
Upon commencing OCS, selectees will receive pay and benefits based on pay grade outlined in the above paragraph.
Commissioned active duty Navy Surface Warfare Officers are paid allowances (BAH, BAS, etc. if eligible), billet pay (sea pay, etc. when eligible), and basic officer military pay based on years of service and paygrade.
Active Duty Obligation
All officers incur an 8 year service obligation (per Title 10 U.S.C., Section 651), which may be served as a combination of active and reserve service. Selectees for this program would incur a four year active duty service obligation from date of commissioning. The balance of service, sufficient to complete eight years of total obligated service, may be served in a ready reserve status.