Published: December 8th, 2014
Updated: April 13, 2015
UPDATE: The pilot program has ended and the changes have been made permanent. Mandatory female haircuts at boot-camp are no longer required.
Over the years while serving as a member of Navy Recruiting Command, I have interviewed a large number of women with an interest in joining the Navy. Many times those same women chose a different service because for the Navy, once a woman arrived at Recruit Training Command, they were required to get their haircut to the length where it could touch but not fall below a horizontal line level with the lower edge of the back of the uniform collar. Well, starting next month, that requirement to lop off the locks will be on hiatus.
According to the Navy's All Hands magazine article, "Updated Hair Policies for Navy Women" published today, beginning in January 2015, Navy boot-camp will initiate a pilot program (length of time program will run has yet to be announced) to cease mandatory female haircuts. From All Hands: (Read the rest of the article…)
Read Comments (2)
Published: March 25th, 2012
Updated: August 16, 2014
Boot Camp (Part Three):
Time to Paddle
By
ETSA Slebodnik, D.V.
In the previous article, I mentioned that everything in the compartment had a specific place, and I add that there is no room for error in Recruit Training Command. Grading the effectiveness of the Division and the Recruit Division Commanders is the Fleet Quality Assurance (FQA) who actively searches for hits against you and your Division. Don't be surprised if your RDCs take your failures personally, as every hit is a deduction from the graduation totals. To protect the totals from any hits, many in your Division will be given jobs as Petty Officers in a chain of command.
The top of the Recruit chain of command is the Recruit Chief Petty Officer (RPOC) and he is the direct connection to the RDCs by maintaining orders and the plan of the day. This guy can get annoying but keep in mind that the RPOC is taking flak from both above and below. Unless he is actively on a power trip give the guy a little slack. When the Division is in ranks, the RPOC is the one driving the bus giving commands on the march for the direction, maneuvers, and calls out roads guards.
The next link in the chain is the Assistant Recruit Chief Petty Officer (AROC) (Read the rest of the article…)
Read Comments (1)
Published: March 11th, 2012
Updated: August 16, 2014
Boot Camp (Part II):
Treading Water
By
ETSA Slebodnik D.V. USN
Are you still here, Recruit? Good work, you've made it through the first phase. Your next evolution will be life in the compartment. Every morning when the Recruit Division Commander (RDC) enters, morning routine will commence. Where within fifteen minutes all 60+ of your Division must wake up, dress in uniform of the day, shave, brush your teeth, make your rack and be on the toe line in time for chow.
The Galley will very well be the best part of your day. Every meal you get two choices of entrée and sides that do taste good, the people are nice and every Sunday you'll get ice cream for dessert. However, you must still remain silent the entire time keeping your face to the wall or in your notebook (given to you at first issue and always in you left hand while outside of the compartment), or be written up by the RDC that catches you.
During the first days of training, you'll begin with the most complicated of daily tasks you will encounter in your time at Recruit Training Command (RTC), folding and stowing your laundry. Everything from your uniforms to your socks must be folded exactly as your RDC will instruct you, and each item is to be placed in your rack, each with a specific location. All instructions on folding and stowing are to be copied in your notebook for future reference. Soon to come will be the second most difficult skill to perfect …shining your boots.
When your Division (Read the rest of the article…)
Read Comments (0)
Published: March 6th, 2012
Updated: August 16, 2014
Boot Camp:
Welcome to the Deep End
By
ETSA Slebodnik, D.V. USN
Congratulations Recruit, it seems like just a short time ago that you decided to join the United States Navy. You have been to MEPS and you have passed your physical, your ASVAB test, and you signed your contract, after doing your homework learning the rates of course. Now, your time in the Delayed Entry Program is finished, and you're ready to ship out to Great Lakes, IL to be the latest addition to Recruit Training Command, also known as Boot-Camp. My how time flies. You have completed your final ship-out processing at the MEPS, and now your on the bus to the airport. When you exit that bus, have your family meet you at the airport; trust me, it helps to kiss them goodbye before you set foot on that plane.
When you take off, the adrenaline running through you will be intense. You're taking the first steps toward a career and a cause bigger than (Read the rest of the article…)
Read Comments (0)
Published: November 17th, 2011
Updated: August 16, 2014
The Navy's drug abuse policy is crystal clear – zero tolerance. Sailors that unlawfully use, possess, promote, manufacture, or distribute drugs and/or drug paraphernalia shall be disciplined, as appropriate, and kicked to the curb; normally, with loss of all benefits, including the GI Bill and other Veteran's Administration benefits. No second chances. No waivers.
The Navy's policy includes the use/misuse, possession, promotion of all substances recognized as illegal by the federal government and the controlled substance analogues (synthetic/designer drugs), natural substances (e.g., fungi, excretions), chemicals (e.g., chemicals wrongfully used as inhalants), propellants and/or prescribed or over-the-counter drugs or pharmaceutical compound with the intent to induce intoxication, excitement, or stupefaction of the central nervous system – Products that contain synthetic cannabinoid compounds, such as Spice, Genie, Blaze, Dream, Ex-Ses, Spark, Fusion, Dark Knight, Yukatan Fire, and K2. Natural substances such as salvia divinorum and mushrooms. Common items abused by inhaling or huffing, such as dust off, glue, paint thinner and gasoline. Over-the-counter products such as Robitussin and Coricidin HBP.
If you are thinking about joining the Navy, you must understand that this is not a joke – think about it, if you get kicked out for drugs, more than likely your parents won't want you living in their house (make sure you ask before you join, "hey, Mom and Dad, if I get kicked out of the military for drugs, can I have my old room back? I suggest you stand at more than arms length when you ask), employers won't hire you, and you won't even get an unemployment check – your best hope is that somebody left a semi-intact refrigerator box (Read the rest of the article…)
Read Comments (2)
Published: September 15th, 2010
Updated: August 16, 2014
The boots pound the pavement. Cadence is called from a female whose strained voice echoes across the wide open campus. The division's feet are finally in step after going through two months of continuous training. This is everything they've trained for. This is everything they've studied crammed into one building placed strategically in the center of the base. This is their final test. This is BATTLE STATIONS.
Eight weeks earlier, the bus pulls into Chicago's O'Hare airport's terminal near the baggage claim. Countless numbers of new recruits, including myself, are waiting in civilian clothes. There isn't any yelling yet, but I know there will be soon. I am ready. We are herded onto the bus in several lines, and we all take one last look around the airport.
The majority of the bus ride is in silence, except for the video and the answering of questions by the petty officer assigned to give us our first brief on what we are about to go about to go through. Through most of my research, I knew all of the information about the subject, but I am willing to learn more.
Amidst the rules and regulations, I immediately notice a sign as the bus ride ends. It is a sign located on a small brick wall located directly underneath the American Flag, which waves proudly in the wind. "Welcome to the US Navy."
A smile crosses my face as more (Read the rest of the article…)
Read Comments (4)
Published: June 6th, 2010
Updated: August 21, 2014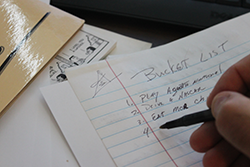 A popular movie of 2007, The Bucket List, starring Jack Nicholson, Morgan Freeman, and Sean Hayes, had two terminally ill men escape from a cancer ward and try to complete a list of things they always wanted to do before they "kicked the bucket."
Lately, I have been hearing the term thrown around more and more. Mostly by my parents, who are still pretty young and energetic. One example is just this last Christmas, my father booked a North Atlantic cruise and they will see such countries as Estonia, Russia and more. The card he used to surprise her had written, "Mark this off the bucket list!" Incidentally, they are on the cruise right now – we haven't heard anything yet, but I assume they are having the time of their lives.
Just the other day, I received an email from (Read the rest of the article…)
Read Comments (3)
Published: April 19th, 2010
Updated: August 16, 2014
As per written instruction, your Recruiter is discouraged from promoting specific diet plans. The Navy wants to reduce the possibility of the Navy becoming liable for any ill effects various diet plans may cause. You should seek advice of qualified health care professionals before starting any diet plan. I certainly am not qualified to endorse any weight loss method; however, I think, since my retirement, I am now qualified to tell you how to gain weight, but that is for another time.
I have been following (Read the rest of the article…)
Read Comments (26)
Published: December 1st, 2009
Updated: October 15, 2014
Thinking about joining the Navy? This news may just interest you: Commander, Navy Recruiting Command's (CNRC) annual holiday stand-down of applicant processing will start the close of business December 18, 2009. Processing of Navy applicants will not recommence until January 3, 2010. Processing includes, applicant physicals and waiver processing (medical and moral). However, waivers submitted prior to the commencement of the stand-down WILL be processed, but, if approved, the applicant will not be able to go to the local Military Entrance Processing Station (MEPS) and join the Navy until Jan. 3, 2010 at the earliest. The computer system that handles Navy jobs and boot-camp assignment will also be shut down – this means there will be no new accessions, changes in Delayed Entry Program (DEP) status, nor will requests for changes/modifications in job guarantees be accomplished. And finally, nobody will be leaving for boot-camp during the stand-down. Per CNRC Notice
Holiday stand-downs have been part of CNRC's operating procedure since (Read the rest of the article…)
Read Comments (6)
Published: September 19th, 2008
Updated: November 26, 2014
To be eligible for the Navy Student Loan Repayment Program (LRP), you must meet the following; You must be Non-Prior Service, a High School Diploma Graduate, get at least a 50QT on your ASVAB test and qualify for and enlist in one of the LRP qualifying ratings. Even if the job you select is eligible for an enlistment bonus you can not be given both – you must choose only one.
What student loans qualify? Existing education loans must meet all of the following requirements in order to qualify for repayment:
Must have been made towards your education.
Must qualify under part B, D, or E of Title IV of the Higher Education Act of 1965 (20 U.S.C. 1071 et seq; 1087a et seq; 1087aa et seq). Unless you are actually listed as the student on Parent Loans for Undergraduate Students (PLUS), this type of loan is ineligible for repayment.
The loan must have been (Read the rest of the article…)
Read Comments (88)