In 1968, back when the Vietnam War was escalating and the number of those having to be drafted into service was on the rise, the political powers at the time saw a benefit to relaxing the standard of enlistment in order to increase the number of volunteers. Increasing the number of those enlisting reduces the number of personnel needed for conscription — a politically prudent thing to do at the time.
Enter, Public Law 90-235, signed into law on January 2, 1968, it states,
"The Secretary concerned shall conduct intensive recruiting campaigns to obtain enlistments in the Regular Army, Regular Navy, Regular Air Force, Regular Marine Corps, and Regular Coast Guard."
The law instituted some guidelines to assist with that endeavor when it goes on to say,
"No person who is insane, intoxicated, or a deserter from an armed force, or who has been convicted of a felony, may be enlisted in any armed force. However, the Secretary concerned may authorize exceptions, in meritorious cases, for the enlistment of deserters and persons convicted of felonies."
That bit of legislation opened a door for enlistment waivers for moral offenses that would not have been considered previously. To this day, the door remains open, but whereas in some years you could drive a semi-truck through it, in others, you can barely see the light escape from the crack underneath.
As we get ready to enter Fiscal Year 2014, we are experiencing the latter, and with the current trends, I don't expect to see that change anytime soon.
Over the last ten years, Navy Recruiting's enlisted active duty mission has averaged roughly 37 thousand per year; that is a decrease of more than 13 thousand per year needed during the previous ten years. There are many reasons for the decrease in those numbers, but basically, it comes down to how many openings are expected to be available after the Navy's retention rates are considered. The Navy's projected enlisted active duty end-strength for FY 2014 is 265,878 (a number by the way that has been in general decline over the past 20+ years) – the Navy's retention remains high, and I do not expect the recruiting goals for 2014 to exceed the average, as a matter of fact, I would not be surprised if 2014 sees the lowest recruiting mission the Navy has ever had; low 30K? I am speculating, of course, but based on the comments and emails I have received that describe what seems to be an ever increasing number of folks being sent home from MEPS with the distinction, "Qualified, No Jobs" – it sounds like a pretty large chunk of FY-14's openings have already been filled.
Combine that with the fact that interest in joining is at an all-time high, and the recruiting services can, and most certainly will, be very selective when "picking" the applicants they will hire. I think this chart I pulled from Google Trends may best demonstrate the overall interest the general public has (I used the term "Join the Military" — I could have used numerous others, but they all showed the same trend, so this is the one I picked):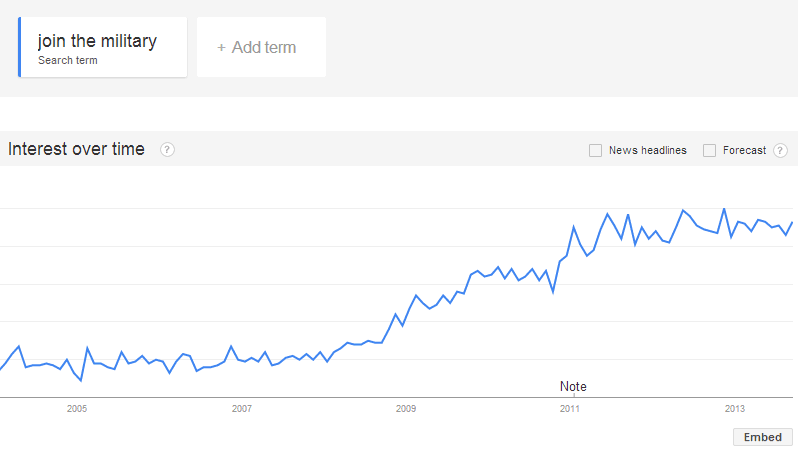 To no surprise, the chart pretty much follows the nation's unemployment rates. The state of the economy has always been a factor. The chart shows what every recruiter already knows, interest in joining the military has clearly increased — and, so far, it does not show signs of abating. This does not bode well for those who may have a less than a Tier I education, a lower ASVAB score, or a prior indiscretion that may need waiver consideration.
Additionally, I do not think it bodes well for further improvements in the military's pay and benefits. With high retention and declining overall need, why keep the pace of increase spending on personnel when serious budget problems persist? I expect a drawn out fight with lots of finger pointing, but in the end, sadly, I don't expect the 2014 pay raise to go beyond the one percent. I do hope I am wrong.
So, to sum it all up, as long as the end-strength numbers continue their slow and deliberate decline, and retention rates continue to reduce the pressures on recruiting commands, the current difficulties applicants are experiencing to enlist as compared to years past will continue. I know my outlook is bleak for those that require waiver consideration, but I do strongly advise you to maintain contact with your recruiter — you never know when things may open up, and he/she will be the first to know when it does.

Read Comments (8)