Updated: November 24, 2015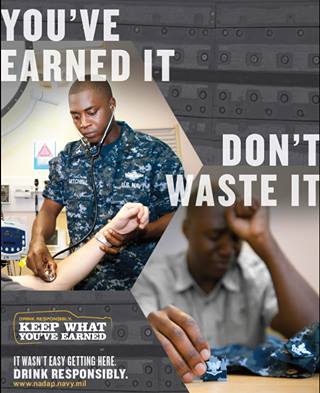 It has been over a decade since I was on the phone with one of my Chief Petty Officers who worked a couple of hundred miles from our headquarters; most of the specifics during the conversation has long since left my memory bank, but the overall content of the call, and what occurred afterwards, will be with me forever.
It was a Friday afternoon, and information was passed to me that a relatively new check-in to our command was believed to be either wearing really bad cologne or he may have had alcohol on his breath when the person saw him that morning.
During the call, I do remember the Chief admitting that he had a couple of drinks the night before, but he didn't feel there was any way he was inebriated by the time he got to work that morning. We continued our conversation and I asked him if he would voluntarily meet with the command's Drug and Alcohol Program Advisor (DAPA) on Monday. He agreed; I actually remember him sounding like he was looking forward to it. I hung up the phone with him saying the same thing I said to every Sailor, "Drive Safe".
I don't recall what time of the day it was, but I received a phone call at home that Sunday. The Chief had been in a motorcycle accident, he was in the hospital, and he was in bad shape.
The Chief had been driving under the influence of alcohol.
He was driving on the highway, and while passing a car he drifted into the center guardrail. His bike flipped and threw him over the median and into oncoming traffic. He recalls looking up and seeing cars coming at him, and as he told it, he was just able to roll out of the way before a car would have hit him.
The Chief lived, but not without breaking most of the bones on the left side of his body and sacrificing a portion of his ear. He endured months of physical therapy, fines, loss of license, and everything else the court requires of those convicted of driving under the influence. He also had the incident included as part of his FITREP (yearly performance evaluation) – such an entry will slow a Sailor's career. Alcohol related incidents can often lead to Non Judicial Punishment, Captain's Mast, where Sailors can lose rank, have a portion of their basic pay taken, and even serve in a restricted status — and that is all in addition to any and all civilian penalties. Actions have consequences!
One hundred percent of it was avoidable. The Chief made a very poor and senseless decision.
We have all heard it before, "Don't drink and drive." Yet, for some reason, folks still get behind the wheel after consuming alcohol. It could be they think nothing bad can happen, or they don't feel that they have had too much – they'll be fine… Chief wasn't fine, and I am sure he thanks God every day that he didn't hurt or kill another human being that day.
An interesting and scary statistic, in our nation, according to the Department of Transportation, "Every 2-hours, three people are killed in alcohol-related highway crashes." That is every two hours someone makes a decision to get in a vehicle and drive after consuming alcohol and kills an average of three people — that does not include the countless others who didn't take a life.
No excuse. What a senseless waste of human life.
The onset of idiocy after the consumption of alcohol does not discriminate. It has inflicted applicants, Future Sailors, and all ranks from Seaman Recruit to Admiral. Over the years, the Navy has taken steps to educate Sailors in the dangers of driving drunk and abusing alcohol. Past campaigns like "The Right Spirit" have proven to be effective. Reporting requirements of those who are involved in alcohol related incidents are in place, and they are held to some level of accountability (FITREP, Mast, etc.), and they receive further training and monitoring if needed. These measures have had a positive effect, but the battle continues.
A few days ago, I had the opportunity to discuss this topic and the Navy's newest campaign, "Keep What You've Earned", with Dr. Mark Long of the Navy and Marine Corps Public Health Center and Mike Aukerman, the Alcohol Program Manager, Navy Alcohol and Drug Abuse Prevention (NADAP).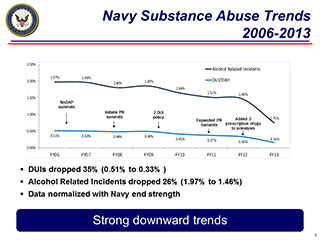 First, the good news. According to Mr. Aukerman, the number of DUIs in the Navy has dropped 35% since 2006. Many factors, some we have already touched on, can be attributed to the decline, including the fact that Navy Recruiting Command has been recruiting more mature applicants that have had less run-ins with law enforcement and that score higher on the Armed Services Vocational Aptitude Battery.
Additionally, since March of this year, the Navy has deployed 13,130 alcohol detection devices (breathalyzers) to ships and shore stations throughout the world. The breathalyzers are not to be used as a tool to catch Sailors doing wrong, as a matter of fact, the use is strictly non-disciplinary — it is a tool the command has at its disposal that could potentially identify Sailors who need help.
Who knows, maybe the use of such a tool could have helped identify Chief's alcohol issue sooner, and maybe he would have received the help he needed before his terrible accident. Lots of maybes, but I am optimistic that those devices may ultimately save lives in the future.
For the Navy and Marine Corps, June is recognized as "Drink Responsibly Month." During the month, we take a little extra time to raise awareness and inform Sailors and Marines of the potential effects of irresponsible actions related to alcohol consumption, but, in reality, it should not be just a single month that this issue is on our minds. Whether you are a Sailor, Future Sailor, or a friend or relative of a Sailor, be more than a casual observer; be proactive, and get involved when you see the potential for trouble.
If you are of legal age, it is okay to drink — just be smart about it. Before you take that first sip, you should be planning — figuring out the logistics. Before you take that first sip, you better know how you will keep yourself and others safe and your career intact.
Drive safe.
Leave a Reply
Before asking a question, please read the article and comments -- your question may already be answered!