Published: September 11th, 2014
Updated: April 3, 2015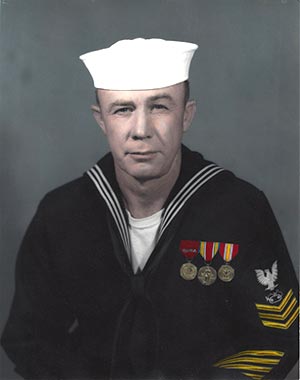 The sun comes up pretty early down in Southern Louisiana, but not before the hardworking souls that toil away over the lands to produce the nourishment required to live. You get used to the heat, the humidity, and even the insects, but you never get used to pains of hunger, especially when it is pain felt by those of your own family.
Fred Gill Jr. was born on October 19, 1923, just outside of Kentwood, Louisiana. Even before the Great Depression, life in the rural South was tough. Fred recalls, "If you didn't have a farm and work, you didn't eat." As a kid growing up, there wasn't much time to contemplate the problems outside his own. His entire world was his family and friends of that small country town.
Patriotism in rural America has always been strong. When the radio announced the attack on Pearl Harbor, Fred, just like every other red-blooded American was ready to answer the call, but leaving at that time would have put unbearable strain on the family. His father needed his help to feed his younger siblings. His mother was very ill. Fred's war was much closer to home.
The urge to serve our country was strong. After his mother's passing, and life started to stabilize at home, he was ready.
In late 1942, Fred made his way about 90 miles south to New Orleans where he ended up at the door (Read the rest of the article…)
Read Comments (4)
Published: May 29th, 2014
Updated: October 20, 2014
Recently, I had the opportunity to discuss an important health initiative with Marine Corps Master Gunnery Sgt. William Mahoney, Senior Enlisted Advisor to the Under Secretary of Defense for Personnel & Readiness and the Assistant Secretary of Defense for Health Affairs, and Navy Command Master Chief Terry Prince, Senior Enlisted Advisor for the Defense Health Agency, going on within the Department of Defense (DoD). The initiative, "Operation Live Well", now celebrating its one year anniversary, helps focus members of DoD on healthy living and beating tobacco use.
The topic is of major importance to those of you seeking enlistment. Many of you do not currently have a routine of fitness, some of you are battling weight issues, and a few of you use tobacco products which impedes your progress toward success. Remember, while at boot-camp, (Read the rest of the article…)
Read Comments (0)
Published: April 24th, 2014
Updated: February 18, 2015
Lately, well, actually, over the past few months, I have been getting a growing number of applicants, and even some recruiters, telling me via comments in the blog, social media, or via email that they are waiting on their local commands and MEPS to inform them to whether their police involvement and/or medical condition will allow them to move forward with their processing. This is actually a normal part of the processing.
The medical prescreening issue:
When an applicant has a "yes" answer on their medical prescreening form, DD Form 2807-2, Medical Prescreen of Medical History Report, the corresponding medical records must be submitted to the MEPS for review. MEPS personnel will respond with one of a few options, either, eligible to process, permanently disqualified, temporarily disqualified (usually a timeframe will be given as to how long the disqualification will be in place), or that more medical documentation is required.
What isn't normal is having to (Read the rest of the article…)
Read Comments (45)
Published: October 2nd, 2013
Updated: August 16, 2014
Although I didn't see it this way while I was in, one of the beautiful things about being in the Navy is the regular physical exertion required to stay in shape and the periodic weigh-ins you had to pass in order to stay in. Once I retired, I ceased doing any regular exercise, and I certainly stopped trying to maintain in-service weight standards. The result? Not good.
Six years into retirement and I tipped the scale at more than 40 pounds that of which I left with. I really didn't notice the weight gain; I mean, you look in the mirror everyday — the change is so gradual that you just don't see it. Sure, the scale keeps telling you, but what does it know, I still look as good today as I did yesterday! (Read the rest of the article…)
Read Comments (4)
Published: June 21st, 2013
Updated: November 27, 2014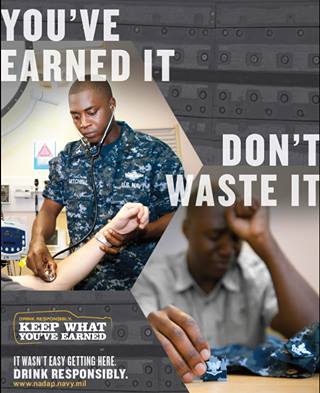 It has been over a decade since I was on the phone with one of my Chief Petty Officers who worked a couple of hundred miles from our headquarters; most of the specifics during the conversation has long since left my memory bank, but the overall content of the call, and what occurred afterwards, will be with me forever.
It was a Friday afternoon, and information was passed to me that a relatively new check-in to our command was believed to be either wearing really bad cologne or he may have had alcohol on his breath when the person saw him that morning.
During the call, I do remember the Chief admitting that he had a couple of drinks the night before, but he didn't feel there was any way he was inebriated by the time he got to work that morning. We continued our conversation and I asked him if he would voluntarily meet with the command's Drug and Alcohol Program Advisor (DAPA) on Monday. He agreed; I actually remember him sounding like he was looking forward to it. I hung up the phone with him saying the same thing I said to every Sailor, "Drive Safe".
I don't recall what time of the day it was, but I received a phone call at home that Sunday. The Chief (Read the rest of the article…)
Read Comments (0)
Published: February 17th, 2012
Updated: February 17, 2012
Every once and a while, I will publish a guest post from Sailors or Future Sailors who like to write and have their works put out for all to see.
Today, I would like to introduce ETSA Slebodnik with his first essay, "Anger: Us and Them."
"Anger: Us and Them"
by
ETSA Slebodnik, D.V. USN
Everyday it creeps into our minds like a parasite. It finds a way in, finds a corner and slowly spreads. Taking away from our family, our job, and our own joy. Replacing all the goods things in life with hate, resentment, pain, and regret. This parasite that lives off of our own misery is "Anger."
Pick your poison on how you get it. Some punk in your class, losing the promotion you bust your guts for, your own cowardice. Makes no difference how it gets in you, the (Read the rest of the article…)
Read Comments (1)
Published: October 12th, 2011
Updated: August 17, 2014
Today, pause for a moment in memory of the 17 Sailors lost during the October 12, 2000, terrorist attack on USS Cole(DDG-67) in Aden, Yemen.
Along with those who lost their lives or injured, the memory I have of that day is the heroic way the crew fought to save their ship. A testament to their leadership and training. Never forget.
Thirty nine Sailors were injured by the blast; the following is Chief Taitt's personal account of that day's events. (Read the rest of the article…)
Read Comments (2)
Published: April 1st, 2011
Updated: October 20, 2014
Today marks the 118th birthday of the United States Navy Chief Petty Officer.
The MCPON sends; (Read the rest of the article…)
Read Comments (0)
Published: September 27th, 2010
Updated: August 16, 2014
The knife shakes in his hand. He moves the small three inch blade slowly down his arm. He's rehearsing this. The cold steel of the blade slowly scrapes back up his arm as his tears fall onto his pale forearm.
With his mind running wild and his eyes filled with tears and hate, he grits his teeth. He knows that it is coming soon. He's planned this all day, almost looking forward to it in class. It is supposed to take all of the pain, the suffering, the frustration and hate.
Thoughts of his mother ring through his head. He remembers being a small child with his mom. He remembers holding her hand in the parking lot, and the love that he felt with that. He would look at her and smile. Love fills his heart.
Insanity instantly comes and rips out the love. He remembers her, his now ex-girlfriend. He remembers the pain that he's caused her, and how she has now turned his entire family against him. My family no longer even wants me on this planet, he thinks to himself.
He removes the cell phone from his pocket and (Read the rest of the article…)
Read Comments (2)
Published: August 11th, 2010
Updated: April 30, 2015
Until I am too old to post them, the United States Navy Master Chief, Senior Chief, and Chief Petty Officer results (actual selection, not the board eligible list) will be posted here, each year, when they become available. For FY2012, the first time in at least 12 years, the active duty CPO results were released on a Monday.
Results will be delivered to the Member's command triad (CO, XO, and CMC) via BUPERS Online the day before the NAVADMIN will be released.
Congratulations to all the Navy Chief Petty Officer selects!
FY-2016
The complete FY-2016 Reserve Chief Petty Officer Results — Board convenes 18 May 2015
The complete FY 2016 Active Navy Chief Results — Board convenes 22 June 2015
The complete FY 2016 Active Navy Senior Chief Results — Board convenes 20 APR 2015
FY-2015
FY-2014
FY-2013
FY-2012
FY-2011
(Read the rest of the article…)
Read Comments (35)