One of my favorite places to stay when we travel to Florida is the Shades of Green, but during each visit I find the Navy is seriously underrepresented! Rarely do I find anyone, active duty or retired, who served in the Navy. The Army folks are everywhere, and good on them! It is time for the Navy to realize and take advantage in greater numbers. I can only assume our Sailors are just unaware of the opportunity, so I hope to help inform via this post. (Read the rest of the article…)
Read Comments (0)
This current semester, I am taking Introduction to Film. I decided to take the class only because it was in a convenient time slot, and not because I had any interest in taking the class. I am, however, enjoying it; for instance, we watched Quentin Tarantino's, Reservoir Dogs — it was the first time I had ever seen the film, it was weird, but cool. Anyway…
The first major paper in the class is a scene analysis. We could pick any movie, any scene. I choose the movie, Saving Private Ryan; hopefully you are able to figure which scene via my essay…
The world as we experience it through our own senses is limited in its scope to the singular perspective. In film, however, using the same setting with the use of many different camera angles and positions, producing shots that are choreographed with crisp sound into a sequence, can take even an otherwise boring event and present it as epic. Filmmaking has the ability to broaden perspective — exponentially. In an essential scene in Saving Private Ryan, the film maker manages the elements of cinematography, sound, setting and editing to grab the audience's attention and put them on edge for what will be coming next.
Released to theaters on July 24, 1998, (Read the rest of the article…)
Read Comments (0)
During the long Labor Day weekend, my wife and I traveled to the Soldiers' Angels Headquarters in San Antonio, Texas. We attended a Milblog conference where we had the opportunity to discuss many topics from the care of our Wounded Warriors to the opportunities for Veteran employment in this time of limited job availability. It was during this conference that we had the chance to meet Navy Veteran, and the lead singer of Madison Rising, Dave Bray.
The son of a Sailor, Dave Bray was born in England outside of Menwith Hill Station. Soon thereafter, he and his family transferred to Ft. Meade, Maryland where the family took up homestead in Southern Pennsylvania. His father's service to his country was a great example to both Dave and his brother.
Dave's older brother was the first to enlist. He followed his brother as soon as he could – entering the Delayed Entry Program (DEP) at 17. Dave, always the achiever, he saw an opportunity to get ahead and referred three of his peers who also enlisted – earning him the pay-grade of E-3 before he even got on the bus to go to Recruit Training Command.
While in boot-camp, Dave was selected to the position of RCPO (Recruit Chief Petty Officer). (Read the rest of the article…)
Read Comments (19)
If you are considering a career in one of our sea services, I recommend that you join the United States Naval Institute (USNI).
Your USNI membership will give you access to online resources to assist you in gaining valuable knowledge of our nation's history. A resource that no Future Sailor and interested family members should be without.
From the USNI Member's Benefits page;
You empower active-duty Sailors, Marines and Coast Guardsmen by giving them exclusive access to strategic insights and perspectives that shape their understanding of key issues that challenge America's armed forces, plus the real-world, decision-making tools they use every day to carry out their missions and keep America strong, safe and free.
You foster a stronger, more dynamic national defense by providing the means for an indispensable independent forum that stimulates and enables an open exchange of Sea Services commentary and discourse that challenges conventional wisdom and maximizes the quality of professional debate.
You honor the men and women of our Sea Services by preserving their powerful legacy and history so that future generations may continue to value their service, dedication and sacrifice.
(Read the rest of the article…)
Read Comments (0)
This year, from today to the 14th of July, we must pool our resources and truly help and assist our Wounded Warriors. With Soldier's Angels Project Valour-IT, there is no better direct contribution to their well-being that you can make beyond handing your resources directly to them. You see, Project Valour-IT is a 100%, absolutely no administrative cost deducted, donation to the cause – that is a rare occurrence, as I'm sure you'll agree.
Over the years, more than 6000 of our Wounded Warriors have benefited from the donations made to Project Valour-IT, but, sadly, many more than 6000 could have benefited if only there was more money available.
What is Project Valour-IT?
Project Valour-IT helps provide voice-controlled/adaptive laptop computers and other technology to support Soldiers, Sailors, Airmen and Marines recovering from hand wounds and other severe injuries. Items supplied include: (Read the rest of the article…)
Read Comments (1)
Many people who have served in the Navy went on to achieve fame pursuing their life's dream. A few that immediately come to mind are Ernest Borgnine, Bill Cosby, Senator John McCain, Stanley Burrell (MC Hammer), Johnny Carson and, heck, the list goes on and on.
Rashad Houston, a Navy Veteran in pursuit of a music career, may just be our next famous Sailor; he has written and performed a number of songs in a genre I am not familiar, but this one is powerful and is so far my favorite.
(Read the rest of the article…)
Read Comments (2)
Boston Maggie's Senior Chief Boatswain's Mate has found a particular problem in Khandahar. His unit has come across a group of wounded Marines who have slipped through the cracks so to speak. They come in straight from the field with the clothes on their back. In most cases, these Marines have suffered a TBI (Traumatic Brain Injury). They are in this location to see the doctors at the nearby facility, which is top-notch, before being shipped out to other facilities.
So, what's the problem? Get yourself over to her blog and find out how you can help! (Read the rest of the article…)
Read Comments (1)
Tomorrow is Veterans Day. To help commemorate the day I suggest that you start your two minutes of silence at 1100 (time that major hostilities of World War I were formally ended on the 11th day of the 11th month of 1918) that you donate to the Soldier's Angels Project Valour-IT campaign. 100% of your donation to Project Valour-IT will be used to purchase laptops and other technology that will support recovery, provide independence, and freedom to our wounded Warriors.

H/t SJS
Your gift will leverage technology to help those who sacrificed so much, assisting them in living a better life. (Read the rest of the article…)
Read Comments (0)
HA! You have to love Navy Recruiting cartoons done in good taste by famous cartoonists! Jeff Bacon, author of the Broadside cartoons, published his latest work to help support the Valour-IT fund raising campaign. Gahh, enough with me talking, read the comic strip!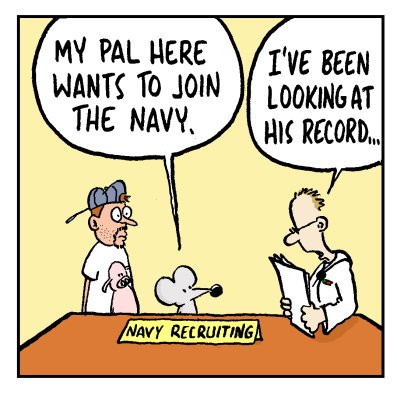 (Read the rest of the article…)
Read Comments (0)
Last night you gave out about $30 worth of candy to a bunch of little kids – how about today you pledge at least that like amount to our wounded warriors? Either use the widget in the sidebar or go to this very special E-Bay auction where you can bid on everything from autographed baseballs to beautiful lithographs, all profits will go to our wounded warriors via Project Valour-IT! Here is the link! (Read the rest of the article…)
Read Comments (0)
Next Page »