The USS Forrestal's final fate has been decided. On October 22, 2013, the Navy announced it has sold the 80,000 ton piece of history for one cent. It will be towed down to Brownsville, Texas and cut up for scrap.
I served aboard the FID, it is how most of us referred to her (FID = First in Defense), from 1982 through 85. It was during the '82 deployment that we transited the Suez, crossed Libya's "Line of Death", and escorted the US forces into Beirut, Lebanon.
It was thirty years ago today that 241 of our brave Servicemen were killed in a terrorist bombing of the barracks in which they lived. I shall never forget them.
When I realized the FID would not become a museum like I had hoped (first Supercarrier ever built from the ground up), I was hoping she would be towed out to sea and sank. I would have loved to go fishing on her, but that is not to be.
Kind of ironic, in the last picture I have of her, she is moored next to the JFK, and they have a barge named, (Read the rest of the article…)
Read Comments (5)
Using my Post 9/11 GI-Bill, I recently graduated with my Information Technology AAS degree from Southwest Tennessee Community College in Web Development. The classes were informative and fun. I would not have pursued the degree if it were not the availability of the earned benefit. Having joined during the old VEAP program, and choosing at the time to opt out of it, I would not have had a GI Bill benefit to use had it not been for the Post 9/11 benefit. If you look into the old VEAP program, I am sure you would have opted out, too — it was horrible.
I have been using much of what I learned from school to help move the design of Navy Cyberspace along. It has been a challenge to ensure it can be viewed by multiple platforms with their various browsers — all while using a single responsive page.
Many sites will deliver different content to desktop visitor then it will to a smartphone one. Usually, the smartphone user will get less stuff. Not here — I am striving to deliver the same page no matter how you get here, but the page will be optimized for the screen resolution, and, just as importantly, consideration for download speeds.
As a side note, if you notice a slight delay in connecting to the site, it is due to my site's host moving their data center from Dallas, TX to Provo, Utah (the moved me on July 15th) — the latency up the mountains is a bit slower. They promise things will improve with router maintenance — I have seen some improvements, but if I don't see marked improvement soon, I will move to a new one with better connection speeds. My fingers are crossed.
I am sure I have more tweaks to make, but things should be loading right with my responsive design. Any feedback (Read the rest of the article…)
Read Comments (0)
A Chief Petty Officer has gone missing, and we need your help in locating him. Aviation Machinist's Mate Chief Kevin Williams was last seen the afternoon of May 28th at the Kangaroo gas station on Phillips Hwy close to the Wal-Mart in Jacksonville, Florida wearing his Navy blue camouflage uniform.
Chief Williams, on active duty serving as a Navy Recruiter for NRD Jacksonville, has been officially listed as a missing person by the Jacksonville, Florida Sheriff's Office. Chief Williams' disappearance is completely out of character. The police are asking for assistance from the public in locating him. (Read the rest of the article…)
Read Comments (95)
On May 14, 2013, the Secretary of Defense announced that most of the Department of Defense (DoD) employees will be furloughed for up to 11 days in order to combat the budget shortfall created by sequestration.
The Department of Defense Education Activity (DoDEA), the folks that run our DoD schools were not exempted from the upcoming furlough. The DoDEA employs approximately 16,000 people, and of those, about 5,000 are employed year round and are subject to up to 11 days of furlough. The other 11,000 or so employees work for DoDEA during the nine month long school year, they include the teachers, aides and technicians and other support staff. Those nine month employees are subject to a five day furlough.
The DoDEA expects to realize approximately $23 million in budget savings due to the furlough – the short term savings will come on the backs of the hard working employees of DoDEA.
Longer term and much more extensive savings appear to be right in front of us. (Read the rest of the article…)
Read Comments (2)
Over the last nine plus years, from its beginning in early 2004 as a prototype used to try and figure out how to leverage in-game advertising for Navy Recruiting Command, Navy Cyberspace has been a hobby of mine. The goal continues to be the same as it was when I started, to ensure the right and most up to date information is available to those seeking it — mainly, those seeking enlistment in the military, well, mostly, the Navy.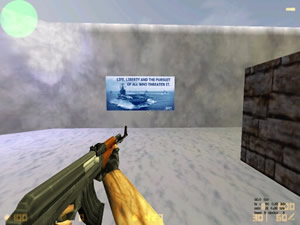 During the last nine years, the Web site has been hosted on three different servers. For the first few months, it was actually hosted on my home computer — that idea has obvious limitations, but during the approved prototype stage of its existence, that was okay. The information we sought was gathered — good stuff. Before the site was started, I knew nothing — absolutely nothing about the Internet except that my email magically traveled through it and you could play games against other humans. Over time, that changed. My interest grew. I took classes, read books, participated in forums, and followed blogs of those in the know like Matt Cutts of Google in an effort to learn as much as I could. I am still, however, very much in the learning stage even after all this time. Recent events prove that point.
I'll explain.
(Read the rest of the article…)
Read Comments (0)
If you are a prior Personnel Specialist, Yeoman or Logistic Specialist with the requisite experience as described below, the San Diego City College may have an opportunity for you as a contracted "A" School instructor. The instructor service contracts are available at Naval Technical Training Center (NTTC) Meridian, Mississippi.
Civilian contract instructors are needed at NTTC Meridian, MS for the following Navy "A" schools:
(Read the rest of the article…)
Read Comments (2)
Do you now, or have you ever, worked on the SPY-1? Well, AeroTek, the largest staffing company in the United States, has two immediate openings for former, or soon to be discharged, Navy Electronics/Fire Control Technicians that have SPY Radar experience. The new hires will be subcontracted to Lockheed Martin. Both positions are long term contract opportunities. The current period of performance runs through 2018, and the potential to run through 2023.
Aerotek will be flexible with pay depending on the candidate, but they are targeting between $20-30 per hour along with a comprehensive benefits package. One new hire will work primarily in Norfolk, VA and the other will be stationed in San Diego, CA.
(Read the rest of the article…)
Read Comments (0)
It looks as if the Navy Recruiting Stations across the country will be phasing in a new look. One that incorporates the colors and pattern of the blue camouflaged working uniform. It has been a little over ten years since the introduction of the modular furniture that is now in use in all stations across the country; in the near future, it appears the stations will also share the same "look".
The picture below is from one of the first stations to get the pixelated camouflage wallpaper with yellow/gold chair-rail.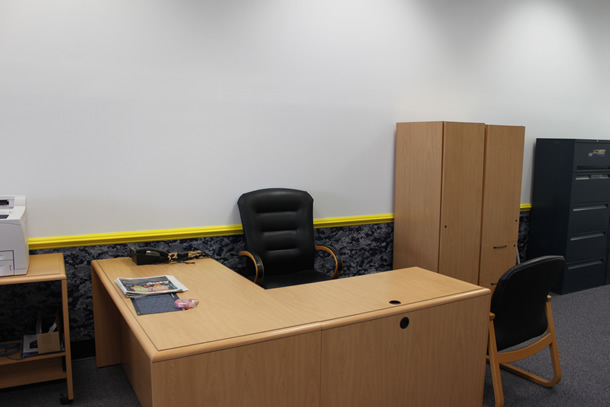 A closer look;
(Read the rest of the article…)
Read Comments (1)
There are just a few organizations that my wife and I provide donations throughout the year, and they are; St. Jude Children's Research Hospital, the Navy-Marine Corps Relief Society, our church, and Soldiers' Angels Project Valour-IT.
Since 2005, Project Valour-IT has helped thousands of our Wounded Warriors by providing them with voice-controlled/adaptive laptop computers and other technology to support Soldiers, Sailors, Airmen and Marines recovering from hand wounds and other severe injuries. Some of the items include; (Read the rest of the article…)
Read Comments (0)
An employment opportunity for those leaving the Navy in the near future or are out and looking for employment; Kronos Energy Solutions, an expanding company in Cordova, Tennessee that has been operating since 2009, has two openings for skilled full time machinists capable of working with a wide variety of different materials. Machines included but not limited to are, Lathes, Punches, brakes, saws, and water jet cutting. Candidates with a variety of machining skills are encouraged to apply. CNC experience preferred but not required. Blueprint reading, precision measuring, and organized work habits are a must. Ability to calculate in decimals and fractions are required. Occasional heavy lifting with assistance is required.
The following (Read the rest of the article…)
Read Comments (0)
Next Page »